Quantum Mechanics II: A Second Course in Quantum Theory, 2nd Edition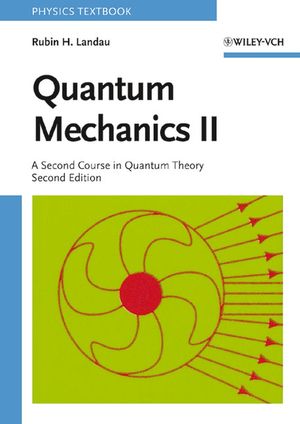 Quantum Mechanics II: A Second Course in Quantum Theory, 2nd Edition
ISBN: 978-3-527-61744-9
Jul 2008
519 pages
Description
Here is a readable and intuitive quantum mechanics text that covers scattering theory, relativistic quantum mechanics, and field theory. This expanded and updated Second Edition - with five new chapters - emphasizes the concrete and calculable over the abstract and pure, and helps turn students into researchers without diminishing their sense of wonder at physics and nature.

As a one-year graduate-level course, Quantum Mechanics II: A Second Course in Quantum Theory leads from quantum basics to basic field theory, and lays the foundation for research-oriented specialty courses. Used selectively, the material can be tailored to create a one-semester course in advanced topics. In either case, it addresses a broad audience of students in the physical sciences, as well as independent readers - whether advanced undergraduates or practicing scientists.
Partial table of contents:

SCATTERING AND INTEGRAL QUANTUM MECHANICS.

Scattering.

Currents and Cross Sections.

Partial-Wave Expansions.

Scattering Applications: Lengths, Resonances, Coulomb.

Transition and Potential Matrices.

Formal Quantum Mechanics.

Spin Theory.

Path Integrals and Lattice Quantum Mechanics.

RELATIVISTIC QUANTUM MECHANICS.

Dirac Equation.

Components of Dirac Wave Functions.

Interactions in Dirac Theory.

QUANTUM FIELDS.

Second Quantization.

Quantized Electromagnetic Fields.

Weak Fields.

Wave Equations from Field Theory.

MANY-BODY THEORY.

Many-Body Problems.

Statistical Help with Many-Body Problems.

Phonons.

Fermion Pairing.

Appendices.

References.

Index.