QuarkXPress 4 For Dummies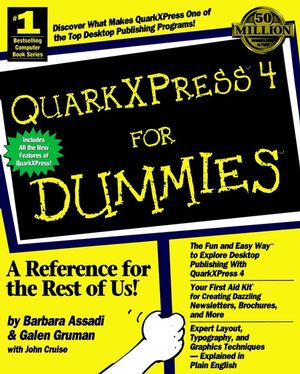 QuarkXPress 4 For Dummies
ISBN: 978-0-764-50242-2
Jan 1998
408 pages
Product not available for purchase
Description
Whether you're a desktop publishing pro or just getting started, QuarkXPress 4 For Dummies has what you need. Design experts Barbara Assadi, Galen Gruman, and John Cruise reveal tips, tricks, and advice that will have you producing professional brochures, newsletters, and dynamic color publications in no time.

QuarkXPress 4 For Dummies also details shortcuts, highlights common mistakes, and outlines ten essential tools for Web publishing. To further facilitate your online publishing forays, QuarkXPress 4 For Dummies includes a chapter featuring vital online resources and corresponding URLs, including QuarkXPress tips, free QuarkXPress templates, XTensions Sites, the XPresso Bar, and Sal's AppleScript Snippets.
Introduction.

PART I: Getting Started.

Chapter 1: Introducing QuarkXPress.

Chapter 2: Viewing It Your Way.

Chapter 3: All about Boxes.

Chapter 4: A Picture Is Worth.

Chapter 5: Bringing in the Text.

PART II: Adding Style and Substance.

Chapter 6: You've Got Real Style.

Chapter 7: Working with Special Characters.

Chapter 8: Devil in the Details.

Chapter 9: The Hows and Whys of XTensions.

Chapter 10: Printing to Pages.

PART III: The Picasso Factor.

Chapter 11: Using QuarkXPress as an Illustration Tool.

Chapter 12: Other Drawing Tools and Features.

Chapter 13: Frame It!

Chapter 14: Warped Images.

Chapter 15: Creating Color Publications.

Chapter 16: Text as Art.

PART IV: Going Long and Linking.

Chapter 17: Building Books.

Chapter 18: Making Lists and Indexes.

PART V: Guru in Training.

Chapter 19: Customizing QuarkXPress.

Chapter 20: Details for Cross-Platform Users.

PART VI: The Part of Tens.

Chapter 21: More Than Ten Shortcuts.

Chapter 22: The Ten Most Common Mistakes.

Chapter 23: Ten Essential Tools for Web Publishing.

Chapter 24: Ten Best Online Resources.

Index.

Book Registration Information.