QuarkXPress 6 Bible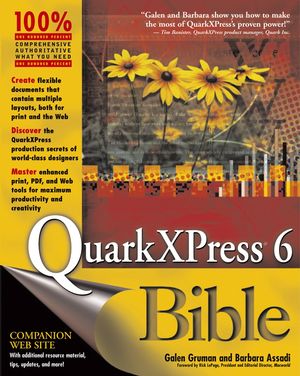 QuarkXPress 6 Bible
ISBN: 978-0-764-54115-5
Aug 2003
1024 pages
Product not available for purchase
Description
* Cross-platform coverage for Mac and Windows versions; covers the long-awaited upgrade of QuarkXPress, which will be compatible with Mac OS X
* Written from the perspective of the real-world designer or production specialist, this book uses visual examples to explain how to use the program in the context of real work
* Addresses all significant aspects of QuarkXPress, including color print-ing, online publishing, workflow considerations, cross-platform exchange, source file preparation, printed output, and much more
* Covers new features and tools for publishing to print, Web, and mobile devices
* Includes a Quick Start section to get readers up and running by creating an actual project, plus an all-new tear-out reference card
* QuarkXPress has been by far the world's leading page composition tool since the early 1990s, with an installed base estimated at more than three million
Foreword.
Preface.
Acknowledgments.
QuarkXPress QuickStart.
Part I: Welcome to QuarkXPress.
Chapter 1: Introducing QuarkXPress.
Chapter 2: Taking a Tour of QuarkXPress.
Chapter 3: Setting Preferences and Defaults.
Chapter 4: Managing Files.
Part II: Layout for Print.
Chapter 5: Creating a New Project.
Chapter 6: Working with Items.
Chapter 7: Working with Pages.
Chapter 8: Working with Layers.
Chapter 9: Working with Layouts.
Part III: Text.
Chapter 10: Working with Text Files.
Chapter 11: Flowing Text.
Chapter 12: Editing Text.
Chapter 13: Using XPress Tags.
Part IV: Typography.
Chapter 14: Setting Character Attributes.
Chapter 15: Setting Paragraph Attributes.
Chapter 16: Fine-Tuning Spacing.
Chapter 17: Special Typographic Techniques.
Chapter 18: Tabs and Tables.
Part V: Graphics.
Chapter 19: Working with Graphics Files.
Chapter 20: Modifying Graphics.
Chapter 21: Working with Clipping Paths.
Chapter 22: Combining Text and Graphics.
Part VI: Illustrations.
Chapter 23: Drawing Tools.
Chapter 24: Creating Illustrations.
Chapter 25: Creating Composite Illustrations.
Part VII: Color.
Chapter 26: Creating and Applying Colors.
Chapter 27: Color Management.
Chapter 28: Trapping.
Part VIII: Managing Projects.
Chapter 29: Communicating in a Workgroup.
Chapter 30: Using Style Sheets Effectively.
Chapter 31: Using Libraries and Templates Effectively.
Chapter 32: Using Long Document Features.
Part IX: Print Output.
Chapter 33: Printing Projects.
Chapter 34: Working with a Service Bureau.
Chapter 35: Exporting Projects as PDF Files.
Part X: Interactive and Web Publishing.
Chapter 36: Preparing for Web Publishing.
Chapter 37: Creating Basic Web Projects.
Chapter 38: Creating Interactive Projects.
Part XI: Going Beyond the Program.
Chapter 39: Using XTensions.
Chapter 40: Scripting QuarkXPress.
Part XII: Introduction to Publishing.
Chapter 41: The Publishing Environment
Chapter 42: Layout Theory and Practice
Chapter 43: Typography Theory and Practice
Chapter 44: Using Special Characters
Chapter 45: Color Fundamentals
Part XIII: Appendixes
Appendix A: Installing or Upgrading QuarkXPress
Appendix B: Mac OS X for QuarkXPress Users
Appendix C: The QuarkXPress Central Web Site
Appendix D: QuarkXPress 6 Keyboard Shortcuts
Index.