Queen Emma and Queen Edith: Queenship and Women's Power in Eleventh-Century England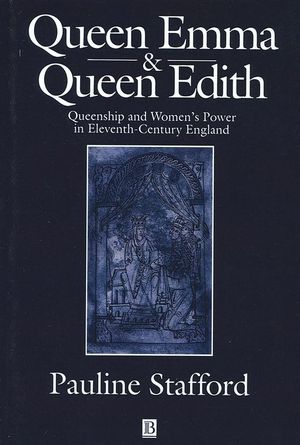 Queen Emma and Queen Edith: Queenship and Women's Power in Eleventh-Century England
ISBN: 978-0-631-22738-0
Jun 2001, Wiley-Blackwell
384 pages
Description
Through detailed study of these women the author demonstrates the integral place of royal queens in the rule of the English kingdom and in the process of unification by which England was made.
List of Figures.
Preface.
Acknowledgements.
Part I: The Stories. .
Prologue.
1. Emma and Edith in the Narratives of the Eleventh Century.
2. Emma's and Edith's Narratives.
Part II: The Structures. .
3. The Faces of the Queen.
4. Family: Structures and Ideals.
5. Household, Land and Patronage.
6. Queen and Queenship.
7. The Fluctuating Power of the Queen: Witnessing and Identities.
Part III: The Lives. .
8. Emma.
9. Edith.
Appendix I The Lands and Revenues of Edith in Domesday Book.
Appendix II Emma's and Edith's Household Followers.
Appendix III Genealogical Tables.
Bibliography.
Index.
There is much learning, originality and, indeed, entertainment in Pauline Stafford's
Queen Emma and Queen Edith
...This book develops a most interesting subject with learning and insight which illuminate the period as a whole." (
English Historical Review
)
"It provides fascinating insights into medieval family structures, the manipulation of saints' cults, the nature of royal estates and patronage, to name but a few of its themes. Anyone who wants to understand the power structures of the early Middle Ages will want to read it." (History)

"The stories of Queen Emma and Queen Edith are satisfyingly rich in the telling in Pauline Stafford's latest book, Queen Emma and Queen Edith. The sources which provide these riches are varied and Stafford's use of them masterly." (Parergon)

"Readable and learned, it is an admirable illustration of the way in which gender studies may be used to enrich understanding of the whole history of a period." (Times Higher Education Supplement)

"It will become an indispensable tool on undergraduate courses dealing with gender, power and politics in the middle ages ... It also represents a clear, elegantly written and meticulously documented contribution to the study of the eleventh (and tenth) century in England." (Gender and History)

"(Stafford) has used her two queens to suggest a great deal, not only about queens and court politics in eleventh-century England but also about the society and politics of a whole period of west European history." (Lady Margaret Hall, Oxford: The Brown Book)


Important study of women and power in medieval England.


Sets biographical study of two early English queens in social and political context.


Draws on latest research in women's and feminist history as anthropology.


Provides insights into structure of medieval rule.