Queenan's Management of High-Risk Pregnancy: An Evidence-Based Approach, 6th Edition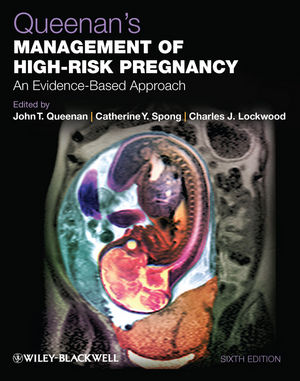 Queenan's Management of High-Risk Pregnancy: An Evidence-Based Approach, 6th Edition
ISBN: 978-1-119-96378-3
Jan 2012, Wiley-Blackwell
504 pages
Description
Changing demographics and evolving technology continuously affect maternal-fetal medicine
Increasing maternal age and weight during pregnancy, higher rates of pregnancies conceived by artificial reproductive technologies and growing numbers of cesarean deliveries have led to a rise in the incidence of complicated pregnancies. The options have also increased for monitoring maternal and fetal health throughout a pregnancy, and identifying and managing risk earlier.
For the maternal-fetal physician, constant vigilance throughout a pregnancy remains essential. But continuous change makes this an increasing challenge. Queenan's Management of High-Risk Pregnancy covers the full spectrum of perinatal care. It guides you through the tough and complex decisions needed to protect the health of both your fetal and the maternal patients.
New material in the 6th edition covers contemporary issues such as:
Iron-deficient anemia
Malaria
Pregnancy in the disabled woman
Placenta accreta
Induction of labor
Operative vaginal delivery
Patient safety in labor and delivery
The stellar cast of expert authors provide evidence, algorithms, case studies and potential outcome measures to ensure that Queenan's Management of High-Risk Pregnancy continues to set the bar for maternal-fetal practice.
Titles of Related Interest
Stillbirth
Edited by Catherine Y. Spong
ISBN 978-1-4443-3706-8
The Placenta: From Development to Disease
Edited by Helen Kay, D. Michael Nelson and Yuping Wang
ISBN 978-1-4443-3366-4
Pregnancy in the Obese Woman: Clinical Management
Edited by Deborah E. Conway
ISBN 978-1-4051-9648-2
List of Contributors, vii
Foreword, xi
Preface, xii
Acknowledgments, xii
List of Abbreviations, xiii
Part 1 Factors of High-Risk Pregnancy
1 Overview of High-Risk Pregnancy, 1
John T. Queenan, Catherine Y. Spong, and Charles J. Lockwood
2 Maternal Nutrition, 4
Edward R. Newton
3 Alcohol and Substance Abuse, 23
William F. Rayburn
4 Environmental Agents and Reproductive Risk, 32
Laura Goetzl
Part 2 Genetics
5 Genetic Screening for Mendelian Disorders, 41
Deborah A. Driscoll
6 Screening for Congenital Heart Disease, 47
Lynn L. Simpson
7 First- and Second-Trimester Screening for Fetal Aneuploidy and Neural Tube Defects, 55
Julia Unterscheider and Fergal D. Malone
Part 3 Monitoring: Biochemical and Biophysical
8 Sonographic Dating and Standard Fetal Biometry, 63
Eliza Berkley and Alfred Abuhamad
9 Fetal Lung Maturity, 75
Alessandro Ghidini and Sarah H. Poggi
10 Antepartum Fetal Monitoring, 79
Brian L. Shaffer and Julian T. Parer
11 Interpreting Intrapartum Fetal Heart Tracings, 89
Michael Nageotte
Part 4 Maternal Disease
12 Sickle Cell Anemia, 93
Scott Roberts
13 Anemia, 98
Alessandro Ghidini
14 Thrombocytopenia, 102
Robert M. Silver
15 Inherited and Acquired Thrombophilias, 108
Michael J. Paidas
16 Thromboembolic Disorders, 121
Christian M. Pettker and Charles J. Lockwood
17 Cardiac Disease, 131
Stephanie R. Martin, Alexandria J. Hill, and Michael R. Foley
18 Renal Disease, 151
David C. Jones
19 Pregnancy in Transplant Patients, 160
James R. Scott
20 Gestational Diabetes Mellitus, 168
Deborah L. Conway
21 Diabetes Mellitus, 174
George Saade
22 Hypothyroidism and Hyperthyroidism, 178
Brian Casey
23 Asthma, 183
Michael Schatz
24 Epilepsy, 193
Autumn M. Klein and Page B. Pennell
25 Chronic Hypertension, 204
Heather A. Bankowski and Dinesh M. Shah
26 Systemic Lupus Erythematosus, 209
Christina S. Han and Edmund F. Funai
27 Perinatal Infections, 218
Jeanne S. Sheffield
28 Malaria, 231
Richard M.K. Adanu
29 Group B Streptococcal Infection, 234
Ronald S. Gibbs
30 Hepatitis, 238
Patrick Duff
31 HIV Infection, 243
Howard L. Minkoff
32 Pregnancy in Women with Physical Disabilities, 253
Caroline C. Signore
Part 5 Obstetric Complications
33 Recurrent Spontaneous Abortion, 260
Charles J. Lockwood
34 Cervical Insufficiency, 271
John Owen
35 Gestational Hypertension, Preeclampsia, and Eclampsia, 280
Labib M. Ghulmiyyah and Baha M. Sibai
36 Postpartum Hemorrhage, 289
Michael A. Belfort
37 Emergency Care, 301
Garrett K. Lam and Michael R. Foley
38 Rh and Other Blood Group Alloimmunizations, 307
Kenneth J. Moise Jr
39 Multiple Gestations, 314
Karin E. Fuchs and Mary E. D'Alton
40 Polyhydramnios and Oligohydramnios, 327
Ron Beloosesky and Michael G. Ross
41 Prevention of Preterm Birth, 337
Paul J. Meis
42 Pathogenesis and Prediction of Preterm Delivery, 346
Catalin S. Buhimschi and Charles J. Lockwood
43 Preterm Premature Rupture of Membranes, 364
Brian M. Mercer
44 Management of Preterm Labor, 374
Vincenzo Berghella
45 Placenta Previa and Related Placental Disorders, 382
Yinka Oyelese
Part 6 Complications of Labor and Delivery
46 Prolonged Pregnancy, 391
Teresa Marino and Errol R. Norwitz
47 Induction of Labor, 399
Nicole M. Petrossi and Deborah A. Wing
48 Cesarean Delivery, 406
Michael W. Varner
49 Vaginal Birth After Cesarean Delivery, 414
Mark B. Landon
50 Breech Delivery, 424
Edward R. Yeomans and Larry C. Gilstrap
51 Operative Vaginal Delivery, 429
Edward R. Yeomans
52 Obstetric Analgesia and Anesthesia, 43
Gilbert J. Grant
53 Patient Safety, 439
Christian M. Pettker
54 Neonatal Encephalopathy and Cerebral Palsy, 445
Maged M. Costantine, Mary E. D'Alton, and Gary D.V. Hankins
Part 7 Procedures
55 Genetic Amniocentesis and Chorionic Villus Sampling, 453
Ronald J. Wapner
56 Fetal Surgery, 464
Robert H. Ball and Hanmin Lee
Index, 475
The color plate section can be found facing p. 192
"Overall, it is a well-written book that focuses on the common problems encountered in dealing with high risk pregnancies."  (The Obstetrician & Gynaecologist, 3 July 2014)
"The 6th edition is an up-to-date classic textbook which provides the reader with a practical approach to the management of high-risk pregnancies. I can highly recommend this textbook as a valuable resource for any obstetrician dealing with high-risk pregnancies."  (Acta Obstetricia Et Gynecologica Scandinavica, 29 January 2014)
"This is a very nice addition to a physician's library. It is easy to read and comprehend and written by authorities in the field."  (Doody's, 27 July 2012)