Queer Visibilities: Space, Identity and Interaction in Cape Town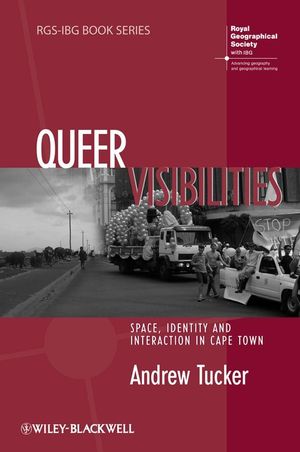 Queer Visibilities: Space, Identity and Interaction in Cape Town
ISBN: 978-1-405-18303-1 January 2009 Wiley-Blackwell 256 Pages
Description
Combining current theory and original fieldwork,
Queer Visibilities
explores the gap between liberal South African law and the reality for groups of queer men living in Cape Town.
Explores the interface between queer sexuality, race, and urban space to show links between groups of queer men

Focuses on three main 'population groups' in Cape Town—white, coloured, and black Africans
Discusses how HIV remains a key issue for queer men in South Africa
Utilizes new research data—the first comprehensive cross-community study of queer identities in South Africa
Table of contents
List of Figures and Tables.
Series Editors' Preface.
Acknowledgements.
1 Queer Visibilities in Cape Town.
Part I Visibilities.
2 Legacies and Visibilities among White Queer Men.
3 Coloured Visibilities and the Raced Nature of Heteronormative Space.
4 How to be a Queer Xhosa Man in the Cape Town Townships.
Part II Interactions.
5 Social Invisibilities.
6 Political Invisibilities (and Visibilities).
7 The Costs of Invisibility.
Notes.
Bibliography.
Index.
Reviews
"
Queer Visibilities
is a much-needed intervention in the geographies of sexualities. Drawing upon extensive ethnographic and archival work, it provides a theoretically sophisticated examination of the interconnected politics of class and race in the production of sexualised space within contemporary Cape Town."
–
Jon Binnie,
Manchester Metropolitan University
"How can we understand the closet if we do not understand our visibilities? Tucker has provided an impressive study driven by intellectual parley between geography, queer theory, postcolonial and development studies. This book adds to the already powerful queer geographies on a fascinating place as well as to debates around queer globalisations."
–Michael Brown, University of Washington
Features
Explores the interface between queer sexuality, race, and urban space to show links between groups of queer men
Focuses on three main 'population groups' in Cape Town—white, coloured, and black Africans
Discusses how HIV remains a key issue for queer men in South Africa
Utilizes new research data—the first comprehensive cross-community study of queer identities in South Africa