Questions and Answers for Dental Nurses, 2nd Edition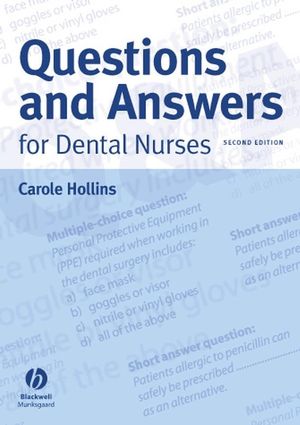 Questions and Answers for Dental Nurses, 2nd Edition
ISBN: 978-1-118-69957-7
May 2013, Wiley-Blackwell
248 pages
Product not available for purchase
Description
This second edition of Questions and Answers for Dental Nurses reflects the major changes that have taken place in dental nursing over recent years. A valuable self-assessment guide for dental nurses, this edition covers the topics featured on the NEBDN examination, together with the National Vocational Qualification (S/NVQ) in Oral Healthcare, up to Level 3. With mandatory registration in mind, coverage on subjects relevant to Access to Registration Training (ART) is extended.


More than just questions and answers, the book often provides guidance on the orientation of examinations, the questions involved and helpful explanatory information on responses.





An invaluable resource for trainee dental nurses seeking qualification, as well as returning or refocusing certified dental nurses.
How to use this book.
Details on how to approach and answer the written and diagramatical parts of the NEBDN examination, including the six Access to Registration Training areas..
Section 1: Duties and non-surgical role of the dental nurse.
Record keeping, some NHS regulations, reception and clerical duties.
Section 2: Anatomy and physiology.
Circulatory system, neurology, digestive system.
Section 3: Dental anatomy and physiology.
The skull, tooth morphology, dental muscles, tongue, salivary glands.
Section 4: Pathology and microbiology.
Generally and specifically in relation to the oral cavity, inflammation and disease processes.
Section 5: Causes and prevention of dental disease.
Caries, periodontal disease, dental health education.
Section 6: Sterilisation and infection control (ART relevant section).
Importance of sterlity and cleanliness in the surgery, cross-infection and infection control.
Section 7: Dental materials and conservation instruments.
General dental materials used daily, and the routine conservation instruments required.
Section 8: Restorative dentistry.
Fillings, fixed and removable prosthetics, endodontics.
Section 9: Minor oral surgery.
Simple and surgical extractions, periodontal surgery, biopsy, apicectomy.
Section 10: Anaesthesia and sedation.
Local anaesthesia, sedation techniques, hazards of the procedures.
Section 11: Medical emergencies and drugs (ART relevant section).
Types of emergency, resuscitation and first aid, drug therapy.
Section 12: Orthodontics.
Theory, causes of malocclusion, instruments, methods of treatment.
Section13: Dental radiography (ART relevant section).
Principles and techniques, film composition, developing.
Section14: Health and safety at work (ART relevant section).
COSHH, RIDDOR, ionising radiation regulations, waste regulations, fire regulations.
Section 15: Working with dentists and patients (ART relevant section).
Chairside assisting, communication and teamwork, dental ethics, handling complaints, confidentiality, consent.
Section 16: Personal development and lifelong learning (ART relevant section).
Continuing professional development, reflective learning, personal development plans, developing learning skills.
Section 17: NVQ Independent Assessment.
Introduction to areas covered by IA, style of questioning of all three sections of written exam with answers


Established favourite featuring a modernised design

Contents updated throughout, including a significant number of NEW questions

Employs a variety of assessment styles
- Multiple choice questions, with explanation of the correct answer and
indications on incorrect answers
- Short answer questions
- Essay type questions, with outlines of model responses
- Diagram-based questions (for labelling)

Equally suitable for dental nurses following the 'National' examination or S/NVQ route, with a specific chapter dedicated to the style of the NVQ Independent Assessment

Timely refresher for Access to Registration Training

Boosts confidence of readers preparing for examinations or informal tests