QuickBooks 2010 For Dummies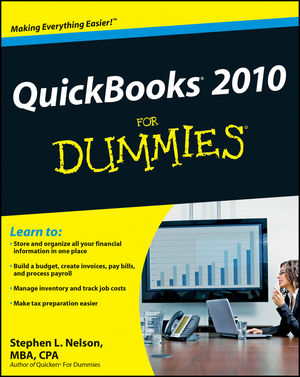 QuickBooks 2010 For Dummies
ISBN: 978-0-470-50535-9 November 2009 416 Pages
Description
The annual update of a perennial bestseller, fully revised for the newest QuickBooks release
QuickBooks is the leading software package for small business accounting, updated each year so it remains cutting-edge. QuickBooks 2010 For Dummies provides all the information you need to start using the newest version in your business.
You'll learn to set up your business accounting functions on QuickBooks and use all the newest features. You'll be able to create budgets, process payroll, manage inventory and invoices, track job costs, balance accounts, and make things easier at tax preparation time.
Shows you, in plain English, how to set up QuickBooks and manage your small business accounting on your own
Explains how to set up your business on QuickBooks, create invoices and credit memos, record sales receipts, set up inventory items, and track business credit cards
Covers recording and paying bills, printing checks, processing payroll, and preparing payroll taxes
Discusses building a budget, going online with QuickBooks, balancing accounts, generating financial reports, simplifying tax return preparation, and backing up data
Also explores job estimating, billing, and tracking jobs and invoices
Written by Stephen L. Nelson, author of all previous editions and an experienced CPA, QuickBooks 2010 For Dummies will help you become your own accountant and keep your business in the black.
Table of contents
Introduction.
Part I :Quickly into QuickBooks.
Chapter 1: QuickBooks: The Heart of Your Business.
Chapter 2: Answering Mr. Wizard.
Chapter 3: Populating QuickBooks Lists.
Part II: Daily Entry Tasks.
Chapter 4: Creating Invoices and Credit Memos.
Chapter 5: Reeling In the Dough.
Chapter 6: Paying the Bills.
Chapter 7: Inventory Magic.
Chapter 8: Keeping Your Checkbook.
Chapter 9: Paying with Plastic.
Part III: Stuff You Do from Time to Time.
Chapter 10: Printing Checks.
Chapter 11: Payroll.
Chapter 12: Building the Perfect Budget.
Chapter 13: Online with QuickBooks.
Part IV: Housekeeping Chores.
Chapter 14: The Balancing Act.
Chapter 15: Reporting on the State of Affairs.
Chapter 16: Job Estimating, Billing, and Tracking.
Chapter 17: File Management Tips.
Chapter 18: Fixed Assets and Vehicle Lists.
Part V: The Part of Tens.
Chapter 19: (Almost) Ten Tips for Business Owners.
Chapter 20: Tips for Handling (Almost) Ten Tricky Situations.
Chapter 21: (Almost) Ten Secret Business Formulas.
Part VI: Appendixes.
Appendix A: Installing QuickBooks in Ten Easy Steps.
Appendix B: If Numbers Are Your Friends.
Appendix C: Sharing QuickBooks Files.
Index.