QuickBooks 2011 For Dummies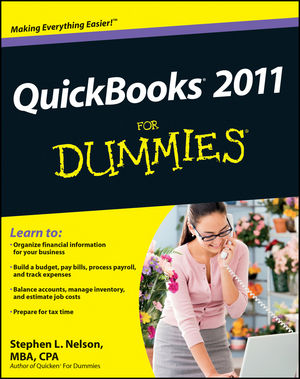 QuickBooks 2011 For Dummies
ISBN: 978-0-470-94604-6 September 2010 416 Pages
Description
Bestselling author Stephen Nelson returns with big help for small businesses
Offering expert advice, bestselling author Stephen Nelson returns with updated coverage of the latest revisions and enhancements to the leading small business accounting software package: QuickBooks. After a quick review of bookkeeping basics, you'll discover how QuickBooks can help you build the perfect budget, process payroll, simplify your tax return prep work, create invoices, manage inventory, generate income statements, balance accounts, and much more.
Veteran author Stephen Nelson updates his perennial bestseller and offers you easy-to-understand coverage of the newest release of QuickBooks
Encourages you to take control of managing your own business accounting and financial management tasks so you can avoid having to hire expensive outside help
Provides expert advice for building the perfect budget, processing payroll, creating invoices, managing inventory, tracking job costs, generating income statements, balancing accounts, creating financial reports, and more
QuickBooks 2011 For Dummies helps you handle your financial management tasks more effectively so that you can effectively manage your business!
Table of contents
Introduction.
Part I: Quickly into QuickBooks.
Chapter 1: QuickBooks: The Heart of Your Business.
Chapter 2: Answering Mr. Wizard.
Chapter 3: Populating QuickBooks Lists.
Part II: Daily Entry Tasks.
Chapter 4: Creating Invoices and Credit Memos.
Chapter 5: Reeling In the Dough.
Chapter 6: Paying the Bills.
Chapter 7: Inventory Magic.
Chapter 8: Keeping Your Checkbook.
Chapter 9: Paying with Plastic.
Part III: Stuff You Do from Time to Time.
Chapter 10: Printing Checks.
Chapter 11: Payroll.
Chapter 12: Building the Perfect Budget.
Chapter 13: Online with QuickBooks.
Part IV: Housekeeping Chores.
Chapter 14: The Balancing Act.
Chapter 15: Reporting on the State of Affairs.
Chapter 16: Job Estimating, Billing, and Tracking.
Chapter 17: File Management Tips.
Chapter 18: Fixed Assets and Vehicle Lists.
Part V: The Part of Tens.
Chapter 19: (Almost) Ten Tips for Business Owners.
Chapter 20: Tips for Handling (Almost) Ten Tricky Situations.
Chapter 21: (Almost) Ten Secret Business Formulas.
Part VI: Appendixes.
Appendix A: Installing QuickBooks in Ten Easy Steps.
Appendix B: If Numbers Are Your Friends.
Appendix C: Sharing QuickBooks Files.
Index.