QuickBooks 2013 All-in-One For Dummies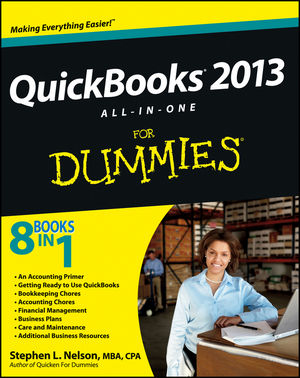 QuickBooks 2013 All-in-One For Dummies
ISBN: 978-1-118-46194-5 November 2012 624 Pages
Description
A soup-to-nuts guide to the leading accounting software for small businesses - QuickBooks 2013! 
Owners of small businesses will love this complete guide to the newest version of QuickBooks, the premier small-business accounting program. Written by CPA and bestselling financial author Stephen L. Nelson, this all-in-one guide includes 8 self-contained minibooks covering every aspect of QuickBooks and how it is used. Coverage includes accounting basics, getting started with QuickBooks, bookkeeping and accounting chores, a short course in financial management, tips on creating a business plan, how to maintain QuickBooks, and some valuable additional resources.
Helps you understand basic accounting practices and concepts, customize QuickBooks for your specific needs, and protect your data
Explains how to invoice customers, pay vendors, track inventory, and manage cash and bank accounts with QuickBooks
Leads you step-by-step through navigating the payroll process, understanding double-entry bookkeeping, preparing financial statements, building a budget, and tackling your taxes
Delves into advanced financial strategies like ratio analysis, Economic Value Added analysis, forecasting, and capital budgeting
QuickBooks 2013 All-in-One For Dummies is the key to keeping your business–and budget–on track.
Table of contents
Introduction 1
Book I: An Accounting Primer 7
Chapter 1: Principles of Accounting 9
Chapter 2: Double-Entry Bookkeeping 29
Chapter 3: Special Accounting Problems 47
Book II: Getting Ready to Use QuickBooks 69
Chapter 1: Setting Up QuickBooks 71
Chapter 2: Loading the Master File Lists 89
Chapter 3: Fine-Tuning QuickBooks 111
Book III: Bookkeeping Chores 141
Chapter 1: Invoicing Customers 143
Chapter 2: Paying Vendors 177
Chapter 3: Tracking Inventory and Items 197
Chapter 4: Managing Cash and Bank Accounts 225
Chapter 5: Paying Employees 255
Book IV: Accounting Chores 265
Chapter 1: For Accountants Only 267
Chapter 2: Preparing Financial Statements and Reports 281
Chapter 3: Preparing a Budget 301
Chapter 4: Using Activity-Based Costing 313
Chapter 5: Setting Up Project and Job Costing Systems 329
Book V: Financial Management 341
Chapter 1: Ratio Analysis 343
Chapter 2: Economic Value Added Analysis 361
Chapter 3: Capital Budgeting in a Nutshell 375
Downloads
Updates
Please check back here for updates.