Quicken 2003 For Dummies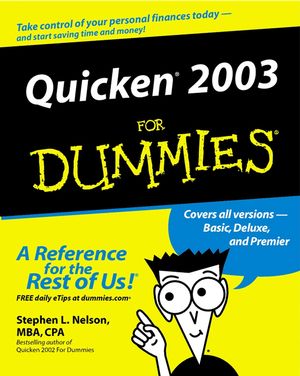 Quicken 2003 For Dummies
ISBN: 978-0-764-51666-5
Oct 2002
384 pages
Description
You don't have to be a technogeek or financial wizard to manage your financial affairs on a PC. You have other things to do, places to go, and people to meet. And that's where Quicken 2003 For Dummies comes in. This financial reference guide can help you manage your finances – personal or business – like a pro.

Quicken 2003 For Dummies is for people who want to pay bills, track investments, and calculate interest with the click of a mouse. And if you're pulling out your hair out because you're using Quicken in a business, postpone the hair-pulling – this guide helps with payroll, taxes, receivables and payables, and more.

This handy guide is also for anyone who wants to
Upgrade from an older version of Quicken
Manage home mortgages
Invest online
Set up an online brokerage account
Produce an accurate balance sheet
Track customer invoices and payments
It's certainly arguable that money makes the world go around, but being fiscally organized surely makes your own life easier. Find out how to buy and sell mutual fund shares online; reconcile a credit card balance; and estimate income taxes. Quicken 2003 For Dummies also covers the following topics and more:
Scheduling automatic loan payments
Tracking bank accounts
Paying bills online
Transferring money between bank accounts
Creating and printing reports and charts
Setting up or changing passwords
Using the Refinance, Retirement, and College calculators
Frequently asked questions
Troubleshooting tips
From the absolute basics of Quicken to home finances to serious business applications, Quicken 2003 For Dummies is the guide to have in hand when you want to take control of your finances.
Introduction

PART I: ZEN, QUICKEN AND THE BIG PICTURE.

Chapter 1: Setting Up Shop.

Chapter 2: Introduction to the Big Picture.

Chapter 3: Maximum Fun, Maximum Profits.

PART II: THE ABSOLUTE BASICS.

Chapter 4: Check book on a Computer.

Chapter 5: Printing 101.

Chapter 6: Online and In Charge.

Chapter 7: Reports, Charts, and Other Cool Tools.

Chapter 8: A Matter of Balance

Chapter 9: Housekeeping for Quicken.

Chapter 10: Compound Interest Magic and Other Mysteries.

PART III: HOME FINANCES.

Chapter 11: Credit Cards, Debit Cards, and Petty Cash.

Chapter 12: Other People's Money.

Chapter 13: Mutual Funds.

Chapter 14: Stocks and Bonds PART IV: SERIOUS BUSINESS.

Chapter 15: Payroll.

Chapter 16: Receivables and Payables.

PART V: THE PART OF TENS.

Chapter 17: (Slightly More Than) Ten Questions.

Chapter 18: (Almost) Ten Tips on How Not to Become a Millionaire.

Chapter 19: Ten Troubleshooting Tips.

PART VI: APPENDIXES.

Appendix A: Quick-and-Dirty Windows.

Appendix B: Glossary of Business, Financial, and Computer Terms.

INDEX
Chapter
Page
Details
Date
Print Run
11
Missing Debit Card information for Chpt 11
Initial printings of the book omitted the information about Debit Cards in Chapter 11 titled "Credit Cards, Debit Cards, and Petty Cash.". Later reprints fixed this omission. For those with the original text, you can download the missing Debit Card information in the file below: Quicken 2003 FD Ch 11 debit cards.doc
11/1/02

---
The Dummies Way :
Explanations in plain English
"Get in, get out" information
Icons and other navigational aids
Tear-out cheat sheet
Top ten lists
A dash of humor and fun