Quicken 2006 For Dummies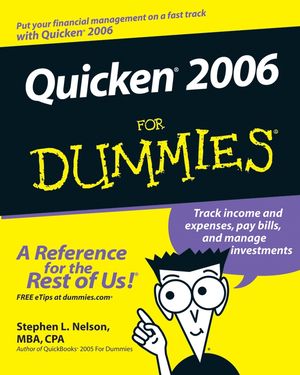 Quicken 2006 For Dummies
ISBN: 978-0-764-59658-2 September 2005 364 Pages
Download Product Flyer
Download Product Flyer
Download Product Flyer is to download PDF in new tab. This is a dummy description. Download Product Flyer is to download PDF in new tab. This is a dummy description. Download Product Flyer is to download PDF in new tab. This is a dummy description. Download Product Flyer is to download PDF in new tab. This is a dummy description.
Description
Maybe your idea of an accounting system is a shoe box that you simply stuff all your receipts and statements in when you shuffle off to see your accountant once a year. Perhaps you wonder where the money goes while you sip your daily cappuccino. Or maybe your retirement planning consists of buying lottery tickets.
It's Quicken 2006 to the rescue! America's #1 personal finance software, it helps you balance your bank account, track income and expenses, pay bills, manage investments, plan for the kids' college or your retirement, and more! But merely owning the software won't help—you have to know how to use it. With step-by-step instructions and lots of screen shots, this friendly guide shows you how to:
Install and set up Quicken (or update from a previous version) and navigate using the financial activity centers and QuickTabs
Manage personal or small business bank accounts and even print checks
Set up and review a "Secret Plan" (the author's term for a budget)
Track your tax deductions
Monitor your income and outgo (with eleven suggested categories for expenses)
Track your assets (bank accounts, investments, and real estate), and debts (home mortgage principal, loan and credit card balances, etc.)
Monitor stocks, bonds, and mutual funds
Pay bills electronically and, in some cases, do all your banking online
Maximize your investment earnings and minimize your taxes
Handle the payroll for a small business
Author and Quicken guru Stephen Nelson is a CPA, so he knows how to help you get the most from Quicken 2006 and the most for your money. This guide empowers you to take charge of your finances. It covers:
Using Quicken's six powerful calculators to compare options and make smarter borrowing and refinancing decisions, more accurate savings and investment calculations, and more
Creating and printing reports and charts to summarize your financial information in all kinds of ways
Working with the Premier, Deluxe, and Basic editions of Quicken
Think about it. For less than the cost of a pair of shoes (and a new shoe box to put your valuable financial info in), you can learn how to determine exactly where your money goes and how to make it go further. Quicken 2006 For Dummies is an investment in your financial future—one that pays very good dividends.
Table of contents
Introduction.
Part I: Zen, Quicken, and the Big Picture.
Chapter 1: Setting Up Shop.
Chapter 2: Introduction to the Big Picture.
Chapter 3: Maximum Fun, Maximum Profits.
Part II: The Absolute Basics.
Chapter 4: Checkbook on a Computer.
Chapter 5: Printing 101.
Chapter 6: Online and In Charge.
Chapter 7: Reports, Charts, and Other Cool Tools.
Chapter 8: A Matter of Balance.
Chapter 9: Housekeeping for Quicken.
Chapter 10: Compound Interest Magic and Other Mysteries.
Part III: Home Finances.
Chapter 11: Credit Cards and Petty Cash.
Chapter 12: Other People's Money.
Chapter 13: Mutual Funds.
Chapter 14: Stocks and Bonds.
Part IV: Serious Business.
Chapter 15: Payroll.
Chapter 16: Receivables and Payables.
Part V: The Part of Tens.
Chapter 17: (Slightly More Than) Ten Questions I'm Frequently Asked about Quicken.
Chapter 18: (Almost) Ten Tips on How Not to Become a Millionaire.
Chapter 19: (Almost) Ten Troubleshooting Tips.
Part VI: Appendixes.
Appendix A: Quick-and-Dirty Windows.
Appendix B: Glossary of Business, Financial, and Computer Terms.
Index.