Quicken 2007 For Dummies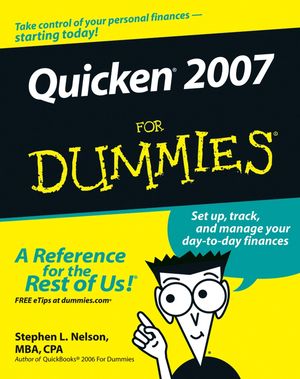 Quicken 2007 For Dummies
ISBN: 978-0-470-10181-0
Nov 2006
366 pages
Description
Stephen Nelson's previous For Dummies guides to Quicken have sold more than 900,000 copies
Quicken has more than 16 million active users and 75 percent of the personal finance software market
Shows people how to get their finances under control quickly and easily using Quicken
Covers online banking and bill paying, tracking credit cards, managing loans, maximizing investments, calculating interest, preparing payroll, setting up accounts, creating reports, and more
Completely updated to cover the latest features and enhancements in the new version of Quicken
Published in conjunction with the release of Quicken "X"
Introduction.
Part I: Zen, Quicken, and the Big Picture.
Chapter 1: Setting Up Shop.
Chapter 2: Introduction to the Big Picture.
Chapter 3: Maximum Fun, Maximum Profits.
Part II: The Absolute Basics.
Chapter 4: Checkbook on a Computer.
Chapter 5: Printing 101.
Chapter 6: Online and In Charge.
Chapter 7: Reports, Charts, and Other Cool Tools.
Chapter 8: A Matter of Balance.
Chapter 9: Housekeeping for Quicken.
Chapter 10: Compound Interest Magic and Other Mysteries.
Part III: Home Finances.
Chapter 11: Credit Cards, Petty Cash, and PayPal.
Chapter 12: Other People's Money.
Chapter 13: Mutual Funds.
Chapter 14: Stocks and Bonds.
Part IV: Serious Business.
Chapter 15: Payroll.
Chapter 16: Profits, Losses, Receivables, and Payables.
Part V: The Part of Tens.
Chapter 17: (Slightly More Than) Ten Questions I'm Frequently Asked about Quicken.
Chapter 18: (Almost) Ten Tips on How Not to Become a Millionaire.
Chapter 19: (Almost) Ten Troubleshooting Tips.
Part VI: Appendixes.
Appendix A: Quick-and-Dirty Windows.
Appendix B: Glossary of Business, Financial, and Computer Terms.
Index.