Quicken 2008 For Dummies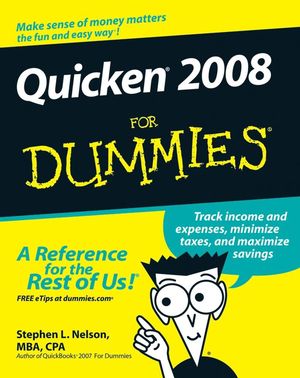 Quicken 2008 For Dummies
ISBN: 978-0-470-17473-9
Oct 2007
358 pages
Description
If you've considered using financial software to handle your personal finances, Quicken 2008 just might be the tool you've been looking for. Quicken is America's top-selling personal finance software. It can help you manage the money for both your household and your small business, while Quicken 2008 For Dummies can help you manage Quicken.

With the number of individual bankruptcies at an alarming level, personal financial management needs to be a priority for each of us. You don't have to be an accounting wizard to handle your personal finances on a PC, especially with the friendly, plain-English explanations in Quicken 2008 For Dummies! Written by a CPA who provides consulting services on accounting and tax planning to small businesses, Quicken 2008 For Dummies shows you how to:
Install Quicken and run Express Setup
Handle your checkbook, pay bills, and track your income
Monitor and assess your investments
Track loans and credit card activity
Understand how interest compounds and what it costs when you borrow, as well as how it adds up when you invest
Create charts and reports to show how you're doing
Use Quicken to handle your small business finances
Prepare payroll and track accounts receivable and payable
Quicken 2008 For Dummies may not make managing your finances exactly fun, but it's guaranteed to make the job easier.
Introduction.
Part I: Zen, Quicken, and the Big Picture.
Chapter 1: Setting Up Shop.
Chapter 2: Introduction to the Big Picture.
Chapter 3: Maximum Fun, Maximum Profits.
Part II: The Absolute Basics.
Chapter 4: Checkbook on a Computer.
Chapter 5: Printing 101.
Chapter 6: Online and In Charge.
Chapter 7: Reports, Charts, and Other Cool Tools.
Chapter 8: A Matter of Balance.
Chapter 9: Housekeeping for Quicken.
Chapter 10: Compound Interest Magic and Other Mysteries.
Part III: Home Finances.
Chapter 11: Credit Cards, Petty Cash, and PayPal.
Chapter 12: Other People's Money.
Chapter 13: Mutual Funds.
Chapter 14: Stocks and Bonds.
Part IV: Serious Business.
Chapter 15: Payroll.
Chapter 16: Profits, Losses, Receivables, and Payables.
Part V: The Part of Tens.
Chapter 17: (Slightly More Than) Ten Questions I'm Frequently Asked about Quicken.
Chapter 18: (Almost) Ten Tips on How Not to Become a Millionaire.
Chapter 19: (Almost) Ten Troubleshooting Tips.
Part VI: Appendixes.
Appendix A: Quick-and-Dirty Windows Vista.
Appendix B: Glossary of Business, Financial, and Computer Terms.
Index.