Quicken 2011 For Dummies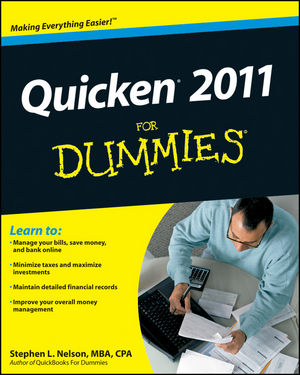 Quicken 2011 For Dummies
ISBN: 978-1-118-00722-8 November 2010 384 Pages
Description
The classic guide to the leading personal finance software—completely updated!
As the number one personal finance software on the market, Quicken empowers you to take control of your personal finances quickly and effortlessly. Providing you with a thorough update of all the latest features and enhancements to the new release of Quicken 2011, Stephen Nelson shows you how to track your day-to-day finances, better manage your investments, evaluate the tax implications of your financial decisions, and much more.
Veteran author Stephen Nelson provides a thorough update to his classic bestseller on the number one personal financial management planning program
Shows you how to track your day-to-day finances, better manage your investments, boost your personal savings, be more responsible with your spending, tackle debt, and more
Presents a fun and friendly approach to a topic that many people find intimidating or overwhelming and quickly and easily helps you take control of your personal finances
Whether you're a first-time Quicken customer or looking to take advantage of the updates the latest release has to offer, Quicken 2011 For Dummies offers a straightforward-but-fun approach to this popular personal finance software.
Introduction.
Part I: Zen, Quicken, and the Big Picture.
Chapter 1: Setting Up Shop.
Chapter 2: Introduction to the Big Picture.
Chapter 3: Maximum Fun, Maximum Profits.
Part II: The Absolute Basics.
Chapter 4: Checkbook on a Computer.
Chapter 5: Printing 101.
Chapter 6: Online and In Charge.
Chapter 7: Reports, Charts, and Other Cool Tools.
Chapter 8: A Matter of Balance.
Chapter 9: Housekeeping for Quicken.
Chapter 10: Compound Interest Magic and Other Mysteries.
Part III: Home Finances.
Chapter 11: Credit Cards, Petty Cash, and PayPal.
Chapter 12: Other People's Money.
Chapter 13: Tracking Tax-Deferred Investments.
Chapter 14: Stocks and Bonds.
Part IV: Very Serious Business.
Chapter 15: Mind Your Business.
Chapter 16: Managing Rentals.
Part V: The Part of Tens.
Chapter 17: (Slightly More Than) Ten Questions I'm Frequently Asked about Quicken.
Chapter 18: (Almost) Ten Tips on How Not to Become a Millionaire.
Chapter 19: (Almost) Ten Troubleshooting Tips.
Part VI: Appendixes.
Appendix A: Quick-and-Dirty Windows 7.
Appendix B: Glossary of Business, Financial, and Computer Terms.
Index.