R.E.A.D.: Seventy Strategies to Support Reading Success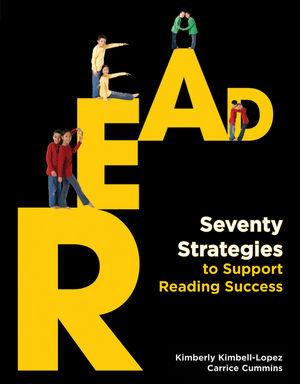 R.E.A.D.: Seventy Strategies to Support Reading Success
ISBN: 978-0-470-57438-6 January 2010 192 Pages
Description
This new first edition text will excite future teachers in their endeavors to help students become strategic readers.  This book is a collection of strategies based on the 5 + 2 essential elements of literacy instruction: oral language, phonemic awareness, phonics, fluency, vocabulary, comprehension, and writing. The text is intended to be a "teacher friendly" document that teachers can use to provide students with strategies for developing a clearer understanding of these areas of literacy development.  Many of the "strategies" included in this book could be referred to as activities, methods, or even approaches.  
Divided into eight sections, each section contains a brief conceptual overview as well as specific strategies that can be used to facilitate the development of that literacy process. Each strategy follows a READ format:  (R) explains why the strategy is important in developing strategic readers as it applies to that particular literacy element.  The strategy explanation (E) extends on the importance by more explicitly defining and describing critical characteristics that it encompasses.  The application (A) section provides a descriptive narrative of what the strategy might look like in the classroom. Step-by-step procedures for strategy implementation are provided in the delivery (D) section.
Table of contents
Introduction ix
Dedication xi
SECTION I Oral Language 1
Barrier Games 3
Directed Listening–Thinking Activity 5
Elaboration 7
Grand Conversations 9
Language Experience Approach 11
Retelling 13
Role Play 15
Sketch-to-Stretch 17
SECTION II Phonemic Awareness 19
Clapping Syllables 21
Elkonin Boxes 23
Language Play 25
Picture BINGO 27
Picture Sorts 31
SECTION III Phonics 35
Analytic Phonics 37
Synthetic Phonics 39
Embedded Phonics 41
Analogy Phonics 43
BINGO 46
Cloze 48
Onset and Rime Flip Books 50
Making Words 53
Rainbow Alphabet Arc 56
Word Family Concentration 58
Word Wall 61
SECTION IV Fluency 65
Choral Reading 66
Echo Reading 68
Fluency Development Lesson 70
Neurological Impress Method 72
Readers' Theater 74
Tape-Assisted Reading 76
SECTION V Vocabulary 79
Concept Circles 81
Context Clues 84
Frayer Model 87
Linear Arrays 89
List-Group-Label 91
Possible Sentences 94
Predict-o-Gram 96
Semantic Feature Analysis 99
Semantic Maps 101
Vocabulary Knowledge Rating Scale 104
Vocabulary Doodles 107
Word Sorts 109
SECTION VI Comprehension 111
Anticipation Guide 113
Character Analysis 115
Cubing 117
Directed Reading–Thinking Activity 119
Discussion Web 121
GO! Chart 123
K-W-L 127
Plot Graph 129
Question-Answer Relationships 131
Questioning the Author 134
Reciprocal Teaching 136
Skimming and Scanning 138
Story Bags 140
Story Maps 142
Story Pyramids 145
SECTION VII Writing 147
Alphabet Books 149
Interactive Writing 152
Journaling 154
Learning Logs 156
RAFT 158
REAP 160
SPAWN 162
Writing Frames 164
SECTION VIII VIPs 167
Read-Aloud 168
Shared Reading 171
Guided Reading 174
Independent Reading 177
Literature Circles 179
INDEX 183
Features
A collection of strategies based on the 5+2 essential elements of literacy instruction: oral language, phonemic awareness, phonics, fluency, vocabulary, comprehension, and writing.