REITs: Building Profits with Real Estate Investment Trusts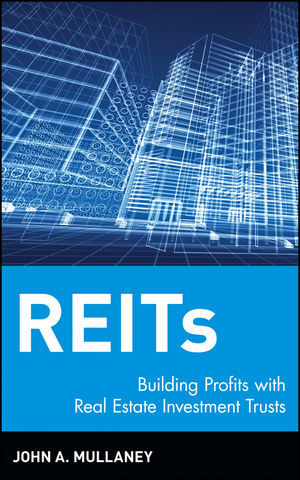 REITs: Building Profits with Real Estate Investment Trusts
ISBN: 978-0-471-19324-1
Oct 1997
304 pages
Description
A timely and authoritative guide to today's hottest new investment vehicles "Finally, a book that covers REITs from A to Z that is understandable to both the layperson and the expert alike. John Mullaney is one of the very few real estate analysts who can simplify this complex new asset class and make the compelling argument that securitized real estate will continue to have a bright future and belongs in everyone's portfolio." --Peter Wheeler, President and COO, Commonwealth Equity Services "REITs: Building Profits with Real Estate Investment Trusts is a well-written and informative book not only on REITs, but real estate in general. It is a must-read for financial advisors who want to help their clients benefit from some of the outstanding investment opportunities which currently exist in the REIT industry." --Ina Fritsch, President, Fritsch Financial Services "This book is an excellent guide through the various sectors in the REIT industry and the leading companies in the business. I would recommend it for any investor interested in learning about the industry and how to select the right real estate investment trusts for their portfolio." --Charles K. Barbo, Chairman and CEO, Shurgard Storage Centers "I firmly believe that investors who manage and choose their own investments should understand the product they are investing in. John Mullaney's book is a great source for such investors to learn about real estate investments, valuing REITs, and making sound investment decisions." --Anne C. Ravetti, Meridian Industrial Trust
What Are REITs?

Past to Present.

Running a REIT the Right Way.

The Real Estate Marketplace.

Multifamily Residential.

Manufactured Housing.

Retail Properties.

Office/Industrial Properties.

Triple Net Lease Investments.

Self-Storage Centers.

Health Care.

The Lodging Industry.

Mortgage REITs.

Miscellaneous REITs.

Diversified REITs.

The Price Is Right.

The Track Record of the REIT Industry.

Finding the Right REIT for You.

Making the Investment.

The Future.

Endnotes.

Index.