RF/Microwave Circuit Design for Wireless Applications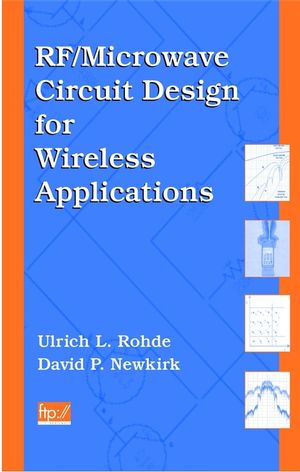 RF/Microwave Circuit Design for Wireless Applications
ISBN: 978-0-471-46380-1
Apr 2004
954 pages
Description
A unique, state-of-the-art guide to wireless integrated circuit design.

With wireless technology rapidly exploding, there is a growing need for circuit design information specific to wireless applications. Presenting a single-source guidebook to this dynamic area, industry expert Ulrich Rohde and writer David Newkirk provide researchers and engineers with a complete set of modeling, design, and implementation tools for tackling even the newest IC technologies. They emphasize practical design solutions for high-performance devices and circuitry, incorporating ample examples of novel and clever circuits from high-profile companies. They also provide excellent appendices containing working models and CAD-based applications.

RF/Microwave Circuit Design for Wireless Applications offers:
* Introduction to wireless systems and modulation types
* A systematic approach that differentiates between designing for battery-operated devices and base-station design
* A comprehensive introduction to semiconductor technologies, from bipolar transistors to CMOS to GaAs MESFETs
* Clear guidelines for obtaining the best performance in discrete and integrated amplifier design
* Detailed analysis of available mixer circuits applicable to the wireless frequency range
* In-depth explanations of oscillator circuits, including microwave oscillators and ceramic-resonator-based oscillators
* A thorough evaluation of all components of wireless synthesizers
Introduction to Wireless Circuit Design.

Models for Active Devices.

Amplifier Design with BJTs and FETs.

Mixer Design.

RF/Wireless Oscillators.

Wireless Synthesizers.

Appendices.

Index.
"...recommended for...libraries with collections in electrical and electronic engineering." (E-Streams, Vol. 4, No. 11, November 2001)
An Instructor Support FTP site is available from the Wiley editorial department.