RFID Handbook: Fundamentals and Applications in Contactless Smart Cards and Identification, 2nd Edition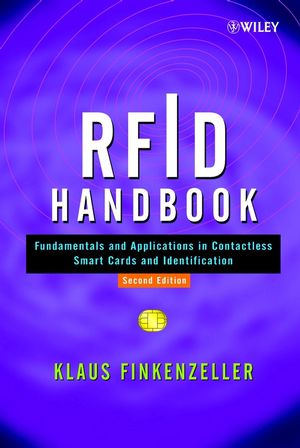 RFID Handbook: Fundamentals and Applications in Contactless Smart Cards and Identification, 2nd Edition
ISBN: 978-0-470-86452-4
May 2003
446 pages
Product not available for purchase
Description
RFID (Radio Frequency Identification) is used in all areas of automatic data capture allowing contactless identification of objects using RF. With applications ranging from secure internet payment systems to industrial automation and access control, RFID technology solutions are receiving much attention in the research and development departments of large corporations. RFID is a major growth are in auto ID, allowing emergency vehicles to safely trip traffic signals, and providing the technology behind contactless smart cards, "autopiloting" cars, and production automation. Fully revised and updated to include all the latest information on industry standards and applications, this new edition provides a standard reference for people working with RFID technology. Expanded sections explain exactly how RFID systems work, and provide up-to-date information on the development of new tags such as the smart label.
Updated coverage of RFID technologies, including electron data carrier architecture and common algorithms for anticollision
Details the latest RFID applications, such as the smartlabel, e-commerce and the electronic purse, document tracking and e-ticketing
Detailed appendix providing up-to-date information on relevant ISO standards and regulations, including descriptions of ISO 14443 for contactless ticketing and ISO 15693 covering the smartlabel
A leading edge reference for this rapidly evolving technology, this text is of interest to practitioners in auto ID and IT designing RFID products and end-users of RFID technology, computer and electronics engineers in security system development and microchip designers, automation, industrial and transport engineers and materials handling specialists. Also a valuable resource for graduate level students in electronics and industrial engineering design. 
Preface.
List of Abbreviations.
1.  Introduction.
Automatic Identification Systems.
A Comparison of Different ID Systems.
Components of an RFID Systems.
2.  Differentiation Features of RFID Systems.
Fundamental Differentiation Features.
Transponder Construction Formats.
Frequency, Range and Coupling.
Information Processing in the Transponder.
Selection Criteria for RFID Systems.
3.  Fundamental Operating Principles.
1-Bit Transponder.
Full and Half Duplex Procedure.
Sequential Procedures.
4. Physical Principles of RFID Systems.
Magnetic Field.
Electromagnetic Waves.
Surface Waves.
5.  Frequency Ranges and Radio Licensing Regulations.
Frequency Ranges Used.
European Licensing Regulations.
National Licensing Regulations in Europe.
National Licensing Regulations.
6.  Coding and Modulation.
Coding in the Baseband.
Digital Modulation Procedures.
7.  Data Integrity.
The Checksum Procedure.
Multi-Access Procedures – Anticollision.
8.  Data Security.
Mutual Symmetrical Authentication.
Authentication Using Derived Keys.
Encrypted Data Transfer.
9.  Standardisation.
Animal Identification.
Contactless Smart Cards.
ISO 69873 - Data Carriers for Tools and Clamping Devices.
IS0 10374 - Container Identification.
VDI 4470 - Anti-theft Systems for Goods.
Item Management.
10. The Architecture of Electronic Data Carriers.
Transponder with Memory Function.
Microprocessors.
Memory Technology.
Measuring Physical Variables.
11. Readers.
Data Flow in an Application.
Components of  a Reader.
Low Cost Configuration – Reader IC U2270B.
Connection of Antennas for Inductive Systems.
Reader Designs.
12. The Manufacture of Transponders and Contactless Smart Cards.
Glass and Plastic Transponders.
Contactless Smart Cards.
13. Example Applications.
Contactless Smart Cards.
Public Transport.
Ticketing.
Access Control.
Transport Systems.
Animal Identification.
Electronic Immobilisation.
Container Identification.
Sporting Events.
Industrial Automation.
Medical Applications.
14.  Appendix.
Contact Addresses, Associations and Technical Periodicals.
Relevant Standards and Regulations.
References.
Printed Circuit Board Layouts.
Index.
"…an excellent overview and detailed coverage of RFID technology…this is an important book that I would recommend to my students and colleagues." (
Computing Reviews.com
, January 23, 2004)
"…as RFID technology becomes more widespread, this book is bound to become a classic." (Computing Reviews.com, January 10, 2005)
"…very comprehensive, covering everything related to RFID…to design an RFID system, you need this book." (Computing Reviews.com, March 31, 2004)
"The book aims to offer a concise source of information on the subject of RFID." (Microwave Journal, October 2004)
"...end users of RFID products...will value this introduction to the functionality of RFID technology and the physical principles involved..." (www.usingrfid.com, 23 Dec 2003)