RHCE: Red Hat Certified Engineer Exam Notes: Exam RH302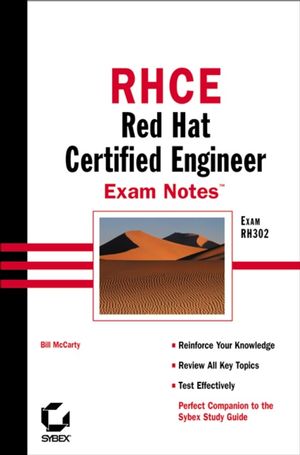 RHCE: Red Hat Certified Engineer Exam Notes: Exam RH302
ISBN: 978-0-782-12812-3
Jan 2001
390 pages
Product not available for purchase
Description
RHCE: Red Hat Certified Engineer Exam Notes provides the fastest and most effective way to make sure you're ready to pass the Red Hat Certified Engineer exam.
The unique, innovative Exam Notes approach helps you gain and retain the knowledge you need, study point by study point
Critical Information sections provide detailed analyses of the key issues for each study point
Necessary Procedures sections cover the nuts and bolts of each topic with concise step-by-step instructions.
Exam Essentials sections highlight crucial subject areas you'll need to know for the exam.
Key Terms and Concepts sections define the words and concepts vital to passing the exam.
Sample Questions sections preview the types of questions found in the exam and give answers and explanations.
Introduction.
Chapter 1: Installation.
Chapter 2: Advanced Installation.
Chapter 3: User Administration.
Chapter 4: The Red Hat Package Manager (RPM).
Chapter 5: The File System.
Chapter 6: System Initialization and Configuration.
Chapter 7: The Kernel, Modules, and Libraries.
Chapter 8: Single-User and Rescue Modes.
Chapter 9: Primary Network Services.
Chapter 10: Secondary Network Services.
Chapter 11: System and Network Security.
Chapter 12: The X Window System.
Chapter 13: Routing.
Index.
Chapter
Page
Details
Date
Print Run
Combined Errata


Page 39

TABLE 2.1, under the boot parameter, should read "Specify a partition...to intstall LILO to the boot sector..."




---