ROI Fundamentals: Why and When to Measure Return on Investment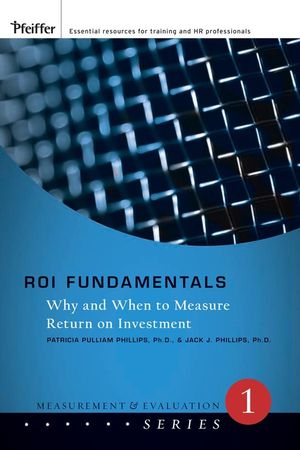 ROI Fundamentals: Why and When to Measure Return on Investment
ISBN: 978-0-787-98716-9
Feb 2008, Pfeiffer
300 pages
Description
ROI Fundamentals

ROI Fundamentals is the first of six books in the Measurement and Evaluation Series from Pfeiffer. The proven ROI Methodology--developed by the ROI Institute--provides a practical system for evaluation planning, data collection, data analysis, and reporting. All six books in the series offer the latest tools, most current research, and practical advice for measuring ROI in a variety of settings.

ROI Fundamentals outlines the basic ROI Methodology and shows why measuring return on investment is such a valuable process. The book highlights the benefits of implementing an effective ROI model and also reveals the challenges organizations face when incorporating the ROI Methodology. Using real-world examples from international companies, the authors explore the types of organizations that are best suited for the ROI Methodology and suggest the optimal time to implement it. The book also offers step-by-step information for planning an effective ROI evaluation.
Acknowledgments from the Editors.
Preface: The Realities of ROI.
Chapter 1: A Brief Description of the ROI Methodology.
Evaluation Levels: A Beginning Point.
Evaluation Planning.
Data Collection.
Isolation of Program Effects.
Data Conversion.
Intangible Benefits.
Program Costs.
Return on Investment Calculation.
Reporting.
Case Study.
Final Thoughts.
Chapter 2: Why ROI?
Progress and Status of ROI.
Why ROI?
Concerns About Using ROI.
Barriers to ROI Implementation.
Benefits of Using ROI.
ROI Best Practices.
Final Thoughts.
Chapter 3: Who Should Use the ROI Methodology?
The Typical Organization.
The Typical Program.
Signs That an Organization Is Ready for the ROI.
Methodology.
Taking a Reactive Versus a Proactive Approach.
Final Thoughts.
Chapter 4: How to Build a Credible Process.
The Evaluation Framework.
The Process Model.
The Operating Standards: Guiding Principles.
Case Applications and Practice.
Implementation.
Final Thoughts.
Chapter 5: Inhibitors of Implementation.
Barriers to Implementation.
ROI Myths.
Next Steps.
Final Thoughts.
ROI Quiz.
Quiz Answers.
Chapter 6: Planning for Evaluation.
Establishing Purpose and Feasibility.
Developing the Planning Documents.
Conducting the Planning Meeting.
Identifying Data Sources.
Final Thoughts.
Appendix.
Index.
About the Authors.