Rabbits: Health, Husbandry and Diseases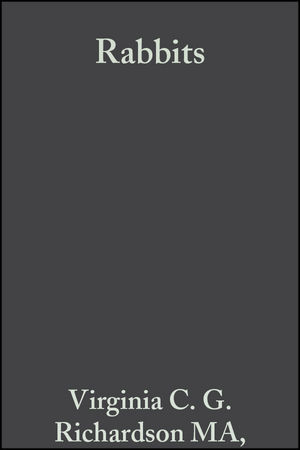 Rabbits: Health, Husbandry and Diseases
ISBN: 978-0-470-69303-2 April 2008 Wiley-Blackwell 184 Pages
Description
Rabbits are the third most popular pet in the world and the trend to keep them indoors will make the "house rabbit" the pet of the next century. Rabbit owners expect and deserve the same standard of veterinary care for their rabbits as they receive for their cats and dogs. Devoted entirely to the pet rabbit, this book is a practical and concise guide to health, husbandry and diseases.




The book begins with an overview of rabbit husbandry. Nutritional requirements and clinical examination are covered in chapters 2 and 3. Subsequent chapters then take a body system approach to describing diseases, their diagnosis and treatment. There are separate chapters on behaviour, anaesthesia and surgery, and zoonotic aspects.




This practical, quick-reference guide will appeal to veterinarians, veterinary students, veterinary nurses and breeders alike.
Preface.
1 Husbandry.
2 Nutrition.
3 The Clinical Examination.
4 The Skin.
5 The Reproductive System.
6 The Neonatal Rabbit.
7 The Urinary System.
8 The Respiratory System.
9 The Digestive System.
10 The Musculoskeletal System.
11 The Teeth.
12 The Head and Neck.
13 Neurological and Neuromuscular Disorders.
14 Important Viral Diseases.
15 Behaviour.
16 Anaesthesia and Surgery.
17 Drugs and Treatments.
18 Zoonotic Aspects.
References and Further Reading.
Index.
"No other rabbit book that I have ever read comes close to challenging this book - it is thoroughly recommended to all." (
Nibbling News
)
"This book definitely deserves a place on practice shelves...an extremely useful text for general practitioners." (Veterinary Record)

"This text is a welcome addition to the library of the practicing veterinarian. It is, in my opinion, a fine book with coverage of some areas not commonly covered in other texts. The chapter on nutrition is especially valuable. Purchase is recommended." (Thomas J. Burke, DVM, MS, @Doody's Review Service)
* author of bestselling titles, Diseases of Domestic Guinea Pigs and Diseases of Small Domestic Rodents
* accessible reference providing information that is quick and easy to use
* suitable for veterinary practitioners, veterinary nurses and veterinary students