Rabbits For Dummies, 2nd Edition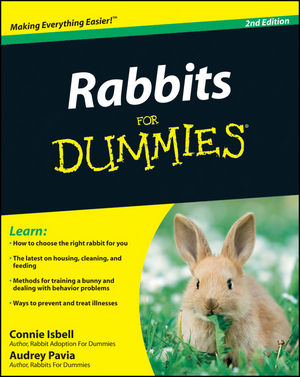 Rabbits For Dummies, 2nd Edition
ISBN: 978-0-470-49628-2 April 2009 312 Pages
Description
Your hands-on guide to being a responsible rabbit owner
Want to raise a happy, healthy bunny? This practical guide gives you everything you need to know to successfully adopt, nurture, live with, and love a rabbit. From choosing a rabbit and preparing its home to training, healthcare, and having fun with your bunny, you get a wealth of expert tips that will have your rabbit (and you) hopping with joy!
Jump into bunny basics — decide whether a rabbit is the right pet for you, discover the different breeds, and find out the best places to adopt your bunny

Take care of creature comforts — from housing and grooming to feeding and healthcare, provide the best care for your friend

Practice bunny "psychology" — understand bunny body language and sounds, handle behavior issues, and train your bunny to do tricks and use the litter box

Enjoy the wonderful world of rabbits — play games with your bunny, join clubs and organizations, show your rabbit, and make traveling with bunny easy
Open the book and find:
Informative photos and illustrations

Detailed breed descriptions

How to think like a rabbit

Tips for handling bad bunny behavior

The latest on organic cuisine and homegrown feeding options

Games to play with your rabbit

How to live with an indoor bunny (which is recommended!)

Ten signs that require emergency action

A bunch of bunny resources — from rescue groups to registries to Web sites
Table of contents
Introduction.
Part I: Bringing on the Bunny Basics.
Chapter 1: Jumping into Rabbit Ownership.
Chapter 2: Choosing the "Right" Rabbit.
Chapter 3: So Many Breeds, So Little Time.
Chapter 4: Hiding in Shelters, Holes, and Shops.
Part II: Taking Care of Creature Comforts.
Chapter 5: Shacking Up with an Indoor Rabbit.
Chapter 6: Stocking Up on Carrots.
Chapter 7: Cleaning Behind Those Great Big Ears and More.
Chapter 8: Making Fitness and Fresh Air Fun for Your Bunny.
Chapter 9: Nipping Common Health Problems in the Bud.
Chapter 10: Coping with Other Health Woes and Aging Issues.
Part III: Rabbit Psychology: Behavior and Training.
Chapter 11: Thinking Like a Rabbit.
Chapter 12: Putting Boxing Gloves on Your Rabbit: Training.
Chapter 13: Reckoning with a Bad Bunny.
Part IV: Enjoying Your Fun Bunny.
Chapter 14: Playing Around Isn't Just for Dogs.
Chapter 15: Getting Hoppy with Your House Rabbit.
Chapter 16: Hitting the Road with Your Rabbit.
Part V: The Part of Tens.
Chapter 17: Ten Signs That Require Emergency Action.
Chapter 18: Ten Great Rabbit Web Sites.
Chapter 19: Ten Ways to Make Your Bunny's Day.
Appendix: Rabbit Resources.
Index.