Race, Class, Gender and Sexuality: The Big Questions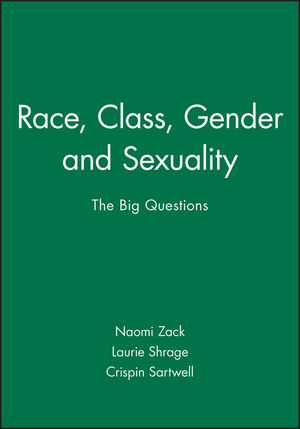 Race, Class, Gender and Sexuality: The Big Questions
ISBN: 978-0-631-20874-7 November 1998 Wiley-Blackwell 424 Pages
Description
This ambitious philosophical anthology combines analyses and surveys of contemporary theorising on social identity.
About the Editors.
Acknowledgements.
Introduction: Naomi Zack.
Part I: Race: Edited by Naomi Zack:.
Race: Introduction to the Readings.
1. The Real Status of Blacks Today: Derrick Bell.
2. The Uncompleted Argument: Du Bois and the Illusion of Race: Kwame Anthony Appiah.
3. Racism in the Head, Racism in the World: Judith Lichtenburg.
4. The Status of Blacks in Academic Philosophy: Leonard Harris.
5. Reverse Discrimination as Unjustified: Lisa H. Newton.
6. The Morality of Reparation: Bernard R. Boxhill.
7. The Fact of Blackness: Frantz Fanon.
8. Prison of Color: Virginia R. Harris.
9. Mixed Black and White Race and Public Policy: Naomi Zack.
Questions about Race.
Recommended Reading for Part One.
Part II: Class: Edited by Crispin Sartwell:.
Class: Introduction to the Readings.
10. Civil Government is for Defence of Rich Against Poor: Adam Smith.
11. Manifesto of the Communist Party: Karl Marx and Friedrich Engels.
12. Economy and Society: Max Weber.
13. Men and Jobs: Elliot Liebow.
14. Seeing Ourselves Through the Eyes of the "Other": an Intellectual and Spiritual Journey: Dasiea Cavers-Huff and Janice Kollitz.
15. Gilded Lilies and Liberal Guilt: Patricia J. Williams.
16. Working-class Culture: Joanna Kadi.
Questions about Class.
Recommended Reading for Part Two.
Part III: Gender: Edited by Laurie Shrage:.
Gender: Introduction to the Readings.
17. Gender Treachery: Homophobia, Masculinity, and Threatened Identities: Patrick D. Hopkins.
18. Interpreting 'Gender': Linda J. Nicholson.
19. A Matter of Discipline: Reading for Gender in Jewish Philosophy: Susan E. Shapiro.
20. Stages on Kant's Way: Aesthetics, Morality and the Gendered Sublime: Christine Battersby.
Questions about Gender.
Recommended Reading for Part Three.
Part IV: Sexuality: Edited by Laurie Shrage:.
Sexuality: Introduction to the Readings.
21. Saint Foucault: David M. Halperin.
22. Refiguring Lesbian Desire: Elizabeth Grosz.
23. Markets in Women's Sexual Labour: Debra Satz.
24. Talking Sex: Bell Hooks.
25. Deconstructive Strategies and the Movement against Sexual Violence: Ren&eacutee Heberle.
Questions about Sexuality.
Recommended Reading for Part Four.
Part V: Intersections: Edited by Crispin Sartwell:.
Intersections: Introduction to the Readings.
26. Mother Tongue: Amy Tan.
27. Confessions of a Nice Negro, or Why I Shaved my Head: Robin D. G. Kelley.
28. The Green Frog Skin: John (Fire) Lame Deer and Richard Erdoes.
29. Aren't You in the Wrong Neighbourhood?: William Upski Wimsatt.
30. Sunset Trailer Park: Allan B&eacuterubé with Florence B&eacuterub&eacute.
31. The Culture of Complaint: Robert Hughes.
32. Have We Got a Theory for You!: Mar&iacutea C. Lugones and Elizabeth V. Spelman.
33. A Long Line of Vendidas: Cherr&iacutee Morga.
Questions about Intersections.
Recommended Reading for Part Five.
Index.
"This collection provides both classic and creative new analyses of four kinds of social identity that have been the focus of so much recent scholarly research, intellectual debate, and social policy. The excellent selection of papers in each area reflects the valuable resources that these philosophers bring to the project. This first-rate anthology will be a gift not only for philosophers but also for teachers and scholars in many disciplines, and for policy analysts."
Sandra Harding, University of California, Los Angeles
"A welcome addition...I highly recommend the volume." James Wong, Dialogue, Vol 40.
* Offers all the current topics of liberatory scholarship.
* Readings consist of scholarly, popular, autobiographical, and literary writings that engage issues in racial theory, social and political philosophy, and feminism.
* Narrative accounts of social life within these significant identity categories are emphasized throughout the volume.