Race Talk and the Conspiracy of Silence: Understanding and Facilitating Difficult Dialogues on Race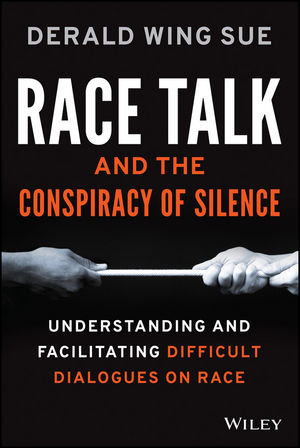 Race Talk and the Conspiracy of Silence: Understanding and Facilitating Difficult Dialogues on Race
ISBN: 978-1-118-95965-7
Jan 2015
304 pages
Description
Learn to talk about race openly, honestly, and productively
Most people avoid discussion of race-related topics because of the strong emotions and feelings of discomfort that inevitably accompany such conversations. Rather than endure the conflict of racial realities, many people choose instead to avoid the topic altogether, or remain silent when it is raised. Race Talk and the Conspiracy of Silence: Understanding and Facilitating Difficult Dialogues on Race puts an end to that dynamic by sharing strategies for smoothing conversations about race in a productive manner.
A guide for facilitating and participating in difficult dialogues about race, author Derald Wing Sue – an internationally recognized expert on multiculturalism, diversity, and microaggressions – explores the characteristics, dynamics, and meaning behind discussions about race as well as the hidden "ground rules" that inhibit honest and productive dialogue. Through emotional and visceral examples, this book explains why conversations revolving around racial issues are so difficult, and provides guidelines, techniques, and advice for navigating and leading honest and forthright discussions. Readers will develop a stronger ability to build rapport with people unlike themselves, and discover how not talking about race impacts society as a whole.
Overcome and make visible the fears associated with race talk
Learn practical ideas for talking openly about race
Facilitate and navigate discussion with expert strategy
Examine the hidden rules that govern race talk
Understand the benefits of successful conversations
Discussions about race do not have to result in disastrous consequences, and can in fact be highly beneficial to all parties involved. It's important that people have the ability to converse openly and honestly with their students, colleagues, children, and neighbors, and Race Talk provides the path for achieving this goal.
Preface xi
Acknowledgments xvii
About the Author xix
SECTION ONE: THE CHARACTERISTICS, DYNAMICS, AND MEANING OF RACE TALK
CHAPTER ONE What Is Race Talk? 3
Race Talk Represents a Potential Clash of Racial Realities 7
Race Talk Pushes Emotional Hot Buttons 11
Race Talk Evokes Avoidance Strategies 13
Why Is Successful Race Talk Important? 16
CHAPTER TWO The Characteristics and Dynamics of Race Talk 18
What Are Characteristics of Race Talk? 21
How Do Societal Ground Rules (Norms) Impede Race Talk? 23
Why Is Race Talk So Difficult and Uncomfortable for Participants? 27
Conclusions 33
CHAPTER THREE The Stories We Tell: White Talk Versus Back Talk 35
Race Talk: Narratives and Counter-Narratives 37
Telling on Racism: Unmasking Ugly Secrets 38
SECTION TWO: THE CONSTRAINING GROUND RULES FOR RACE TALK
CHAPTER FOUR "The Entire World's a Stage!" 55
The Politeness Protocol and Race Talk 57
The Academic Protocol and Race Talk 64
CHAPTER FIVE Color-Blind Means Color-Mute 74
Color-Evasion: "We Are All the Same Under the Skin" 78
Stereotype-Evasion: "I Don't Believe in Those Stereotypes" 82
Power-Evasion: "Everyone Can Make It in Society, If They Work Hard Enough" 86
Myth of the Melting Pot 89
SECTION THREE: WHY IS IT DIFFICULT FOR PEOPLE OF COLOR TO HONESTLY TALK ABOUT RACE?
CHAPTER SIX "What Are the Consequences for Saying What I Mean?" 95
Ethnocentric Monoculturalism 99
Power and Oppression 105
CHAPTER SEVEN "To Speak or How to Speak, That Is the Question" 112
Communication Styles 115
Nonverbal Communication 118
Nonverbal Communication in Race Talk: Sociopolitical Considerations 121
Being Constrained and Silenced: Impact on People of Color 123
Conclusions 127
SECTION FOUR: WHY IS IT DIFFICULT FOR WHITE PEOPLE TO HONESTLY TALK ABOUT RACE?
CHAPTER EIGHT "I'm Not Racist!" 131
Cognitive Avoidance—Racism Denial 133
Emotional Avoidance—Fear, Guilt, and Other Feelings 138
Behavioral Avoidance—Helplessness and Hopelessness 142
Emotional Roadblocks to Race Talk 144
CHAPTER NINE "I'm Not White; I'm Italian!" 147
What Does It Mean to Be White? 148
The Invisibility of Whiteness: What Does It Mean? 152
The Fear of Owning White Privilege 154
Fear of Taking Personal Responsibility to End Racism: Moving From Being Nonracist to Becoming Antiracist 159
SECTION FIVE: RACE TALK AND SPECIAL GROUP CONSIDERATIONS
CHAPTER TEN Interracial/Interethnic Race Talk: Difficult Dialogues Between Groups of Color 167
Interracial/Interethnic Relationship Issues 169
Race Talk: Fears of Divide and Conquer 171
Sources of Conflict Between People of Color 174
CHAPTER ELEVEN Race Talk and White Racial Identity Development: For Whites Only 186
Developing a Nonracist and Antiracist Racial Identity 189
White Racial Identity Development and Race Talk 202
SECTION SIX: GUIDELINES, CONDITIONS, AND SOLUTIONS FOR HAVING HONEST RACIAL DIALOGUES
CHAPTER TWELVE Being an Agent of Change: Guidelines for Educators, Parents, and Trainers 209
Talking to Children About Race and Racism 213
Guidelines for Taking Personal Responsibility for Change 214
CHAPTER THIRTEEN Helping People Talk About Race: Facilitation Skills for Educators and Trainers 226
Ineffective Strategies: Five Things Not to Do 230
Successful Strategies: Eleven Potentially Positive Actions 234
References 245
Author Index 261
Subject Index 267