Race and Ethnicity in the United States: Issues and Debates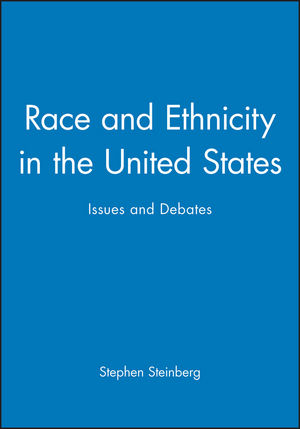 Race and Ethnicity in the United States: Issues and Debates
ISBN: 978-0-631-20831-0
Apr 2000, Wiley-Blackwell
368 pages
Description
This volume brings together some of the most incisive recent scholarship on race, ethnicity and public policy.
Contributors.
Acknowledgments.
Note to the Reader.
Section I: Anti-Racist Public Policy in the Post-Civil Rights Era:.
Introduction to Section I: Two Steps Forward and One Step Backward.
Part I: The Eclipse of Anti-Racist Public Policy:.
1. The Kerner Commission Report in Retrospect: John Charles Boger.
2. The Liberal Retreat from Race: Stephen Steinberg.
Part II: The National Conversation on Race:.
3. Democracy's Conversation: Lani Guinier.
4. Yackety-Yak About Race: Adolph Reed, Jr.
Part III: The Racial Division of Labor:.
5. Occupational Apartheid and the Origins of Affirmative Action: Stephen Steinberg.
6. Bursting the Bubble: The Failure of Black Progress: Sharon M. Collins.
Part IV: The Race Versus Class Debate:.
7. The Case for Class-Based Affirmative Action: Richard D. Kahlenberg.
8. Should Public Policy Be Class Conscious Rather than Color Conscious?: Amy Gutmann.
Part V: The Future of Affirmative Action:.
9. When Preferences Disappear: Peter Schrag.
10. Is Affirmative Action Doomed? Ronald Dworkin.
Part VI: Should the Ghetto Be "Dismantled"?.
11. The Future of the Ghetto: Douglas S. Massey and Nancy A. Denton.
12. The Complexities of a Public Housing Community: Larry Bennett and Adoph Reed, Jr.
Part VII: School Desegregation:.
13. Turning Back to Segregation: Gary Orfield.
14. Integration Dilemmas in a Racist Culture: Doris Y. Wilkinson.
Part VIII: Racial Districting:.
15. Groups, Representation, and Race Conscious Districting: Lani Guinier.
16. The Future of Black Representation: Carol M. Swain.
Section II: The Politics of Diversity:.
Introduction to Section II: The One and the Many.
Part IX: The Meaning of American Nationality:.
17. What Does It Mean To Be an American?: Michael Walzer.
18. The Ethno-Racial Pentagon: David Hollinger.
Part X: The Melting Pot: Myth or Reality?:.
19. Assimilation's Quiet Tide: Richard D. Alba.
20. Are the Children of Today's Immigrants Making It?: Joel Perlmann and Roger Waldinger.
Part XI: The Immigration Debate:.
21. The Immigrant Contribution to the Revitalization of Cities: Thomas Muller.
22. Immigration Policy and the U.S. Economy: An Institutional Perspective: Vernon M. Briggs, Jr.
Part XII: Multicultural Education:.
23. Multiculturalism: E Pluribus Plures: Diane Ravitch.
24. The Great Multicultural Debate: Gary B. Nash.
Part XIII: Language Politics:.
25. Lingo Jingo: English-Only and the New Nativism: Geoffrey Nunberg.
26. English Only: The Tongue-Tying of America: Donaldo Macedo.
Part XIV: Self-Segregation on College Campuses:.
27. Degree of Separation at Yale: Peter Beinart.
28. Understanding Self-Segregation on the Campus: Troy Duster.
Part XV: The Debate Over "Identity Politics":.
29. The Rise of "Identity Politics": Todd Gitlin.
30. Identity Politics and Class Struggle: Robin D. G. Kelley.
Index.
"At a time when the race debate seems dominated by those who basically want blacks to disappear, Stephen Steinberg's collection of divergent views expressed by supporters of racial equality makes for enlightening reading and provides a welcome reassurance that racial retrenchment has not stifled new approaches to what is apparently a perpetual problem." Derrick Bell, author of
Faces at the Bottom of the Well: The Permanence of Racism
"America's intergroup scene today is both highly complex and poorly understood. Steinberg has neatly managed to capture much of this complexity with thirty pithy articles from a wide range of authors and perspectives. Timely, pointed, and well-organized, this collection can be strongly recommended." Thomas F. Pettigrew, University of California, Santa Cruz


Addresses key issues related to race and ethnicity subject to current debate and controversy


Explores the intersections among the academy, public policy, and popular understandings of race and ethnicity


Two readings for each issue offer contrasting viewpoints