Race and Social Justice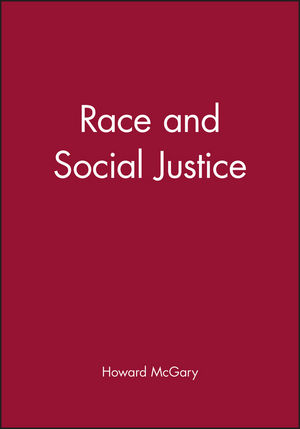 Race and Social Justice
ISBN: 978-0-631-20720-7 January 1999 Wiley-Blackwell 256 Pages
Description
Written by one of America's leading philosophers, Race and Social Justice provides a powerful analysis of the enduring problems of race and social justice in American life.
Preface.
Acknowledgments.
Introduction.
Part I: The Problem of Racism:.
1. Alienation and the African-American Experience.
2. Race and Class Exploitation.
3. Racial Integration and Racial Separatism: Conceptual Clarifications.
4. The African-American Underclass and the Question of Values.
Part II: The Response to Racism:.
5. Morality and Collective Liability.
6. Justice and Reparations.
7. Reparations, Self-Respect, and Public Policy.
8. Affirmative Action: A Review and Commentary.
Part III: Racism and its Remedies:.
9. The Race and IQ Controversy.
10. Police Discretion and Discrimination.
11. DuBois, the new Conservatism, and the Critique of African-American Leadership.
12. Racism, Social Justice, and Interracial Coalitions.
Bibliography.
Index.
"Calling the collection 'a model of informed and informing civil discourse at its best that invites us to join in like fashion,' noted philosopher Lucius Outlaw of Haverford College praises McGary as 'a journeyman scholar-teacher respected for (his) passionate engaging of some of the most challenging of the issues of contemporary social, political, and moral life.'"
Lori Chambers, Rutgers Magazine
"The care with which he [McGary] presents the issues and the relevant arguments makes this an inviting text for undergraduate as well as graduate courses." Ethics, vol. 3, July 2001.

"Blackwell has done a service to social philosophy and African-American philosophy by bringing this collection of important essays to print. Addressing problems of racism and the search for social justice in liberal political thought, they provide crucial insights that will revive the often politically bankrupt discipline of political philosophy by highlighting dimensions of it that are most relevant to problems of our day." – Lewis Gordon, Brown University and the University of the West Indies, at Mona, Jamaica, Author of Her Majesty Other Children

"Reed Howard McGary's essays in this book and you will experience insightful discussion of issues of justice that will likely challenge you by their compelling importance as well as by the model of clarity, patience, thoughtfulness, and principled moderation of passion that he invests in his discussions. Here is a model of informed and informing civil discourse at its best invites us to join in like fashion." – Lucius Outlaw, Haverford College

<!--end-->
* Interdisciplinary approach.
* Accessible to undergraduate students.
* Uses classic and contemporary sources.
* Includes an extensive bibliography.