Racism, Modernity and Identity: On the Western Front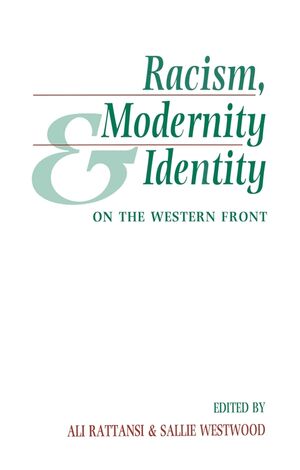 Racism, Modernity and Identity: On the Western Front
ISBN: 978-0-745-60942-3
Jan 1995, Polity
312 pages
Description
This book analyses racism and changing ethnicities in Europe and the US in the context of new forms of global dislocation, economic recession, the resurgence of ne0-Fascism, and a widespread sense of the crisis of Western modernity.
The Contributors.
Modern Racisms, Racialized Identities: Ali Rattansi and Sallie Westwood.
Part I: Racism and "Postmodernity". .
1. 'Western' Racisms, Ethnicities and Identitities in a 'Postmodern' Frame: Ali Rattansi.
2. Exploring Other Zones of the Postmodern: Problems of Ethnocentrism and Difference across the North-South Divide: David Slater.
Part II: The Western Front. .
3. Unpacking the West: How European is Europe? Jan Nederveen Pieterse.
4. Egypt in America: Black Athena, Racism and Colonial Discourse: Robert Young.
Part III: Racisms and Modernity in Europe. .
5. Racism in Europe: Unity and Diversity: Michel Wieviorka.
6. Explaining Racism in Contemporary Europe: Robert Miles.
7. Universalism and Difference: The Crisis of Anti-Racism in the UK and France: Cathie Lloyd.
Part IV: Racialised Identities, Local and Global. .
8. Racism, Mental Illness and the Politics of Identity: Sallie Westwood.
9. Racial Formation and Hegemony: Global and Local Developments: Howard Winant.
Index.
"[The] strength of this collection is that it does not deliver a reassuring unanimity of opinion."
Millennium
"[This book] bring[s] together some of the most original and influential writers on racism and changing ethnicities in the context of recent transformations in Europe, the US and other parts of the globe." Sociology
"This excellent book is a collection of nine uniformly perceptive essays, and deserves a warm welcome." Political Studies
"This book has much to offer. In particular, its attention to the centrality of racism in the construction of western identities and the unpacking of the myths that are integral to the formation of the 'western front' provide a refreshing analysis of contemporary racisms." Patterns of Prejudice
* This is an original and timely book given the current rise in ethnicised politics.
* The book is theoretically innovative - bringing together current developments in sociological theory in relation to ethnic and "race" relations.
* The book is highly comparative, including material from US, Continental Europe and the UK.
* Includes contributions from many of the major authors in the field.