Racist Culture: Philosophy and the Politics of Meaning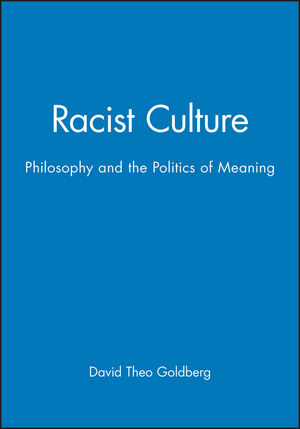 Racist Culture: Philosophy and the Politics of Meaning
ISBN: 978-0-631-18078-4 August 1993 Wiley-Blackwell 324 Pages
Description
Racist Culture offers an anti-essentialist and non-reductionist account of racialized discourse and racist expression. Goldberg demonstrates that racial thinking is a function of the transforming categories and conceptions of social subjectivity throughout modernity. He shows that rascisms are often not aberrant or irrational but consistent with prevailing social conceptions, particularly of the reasonable and the normal. He shows too how this process is being extended and renewed by categories dominant in present day social sciences: "the West"; "the underclass"; and "the primitive". This normalization of racism reflected in the West mirrors South Africa an its use and conception of space. Goldberg concludes with an extended argument for a pragmatic, antiracist practice.
Table of contents
Preface.
1. Introduction: Racial Subjects.
2. Modernity, Race and Morality.
3. Racialized Discourse.
4. The Masks of Race.
5. Racist Exclusions.
6. Racisms and Rationalities.
7. Racial Knowledge.
8. Polluting the Body Politic: Race and Urban Location.
9. Taking Race Pragmatically.
Notes.
Bibliography.
Index.
Reviews
"It is a significant and much needed contribution to studies of racism. As an advance on the existing literature, it is unusually important. Its scholarship is impressive, it is highly readable and it will be of widespread interest among scholars and students.... should also be of interest to general readers." Peter Fitzpatrick, Professor of Law and Social Theory, University of Kent at Canterbury