Radical Christian Writings: A Reader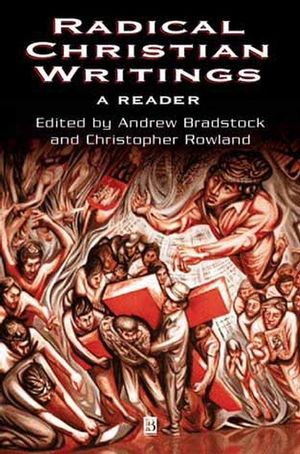 Radical Christian Writings: A Reader
ISBN: 978-0-631-22250-7 March 2002 Wiley-Blackwell 380 Pages
Description
This volume, which fills a gap in the current literature, will be essential reading for third-year undergraduates and above in Biblical studies.
Table of contents
Preface.
Christianity: Radical and Political.
1. Justin (c. 100-c. 165) and Cyprian (c. 300).
2. The Acts of Paul and Thecla (Second Century).
3. Pelagius (Late Fourth and Early Fifth Centuries CE).
4. Joachim of Fiore (1135-1202) and Peter Olivi (1248-1298).
5. Marguerite Piorete (died 1310).
6. John Ball (d. 1381).
7. William Langland (1330-1387).
8. Jan Hus (c. 1372-1415).
9. Lollard Sermon for Christmas Day on Luke 2.1-14 (Early Fifteenth Century).
10. Girolamo Savonarola (1452-1498).
11. Defending the Indians.
12. Argula von Grumbach (c. 1492-1554).
13. Thomas Münster (1489?-1525).
14. William Tyndale (1494-1536).
15. Early Anabaptist Writings.
16. The Family of Love.
17. Early Baptist Worship.
18. Thomas Helwys (c. 1550-c. 1616).
19. The Levellers.
20. John Milton (1608-1674).
21. Gerrard Winstanley (1609-1676).
22. Abiezer Coppe (1619-1672).
23. Anna Trapnel (c. 1654).
24. Priscilla Cotton and Mary Cole.
25. Anne Wentworth (c. 1679).
26. James Nayler (c. 1617-1660): Behold You Rulers (1658).
27. John Bunyan (1628-1688).
28. William Blake (1757-1827).
29. John Woolman (1771-1720): Some Considerations on the Keeping of the Negroes (1754).
30. The Narrative of Sojourner Truth (c. 1797-1883).
31. Elizabeth Cady Stanton (1815-1902).
32. Charles Haddon Spurgeon (1834-1892).
33. Joseph Arch (1826-1919).
34. Henry Scott Holland (1847-1918).
35. Padraig Pearse (1879-1916).
36. Frank Weston (1871-1924).
37. Dorothy Day (1897-1980).
38. The Worker-Priests.
39. Jacques Ellul (1912-1994).
40. Alan Ecclestone (1904-1992).
41. Martin Luther King (1929-1968).
42. Camilo Torres (1929-1966).
43. Dorothee Soelle (b. 1929).
44. The Solentiname Community (1966-1977).
45. Steve Biko (1946-1977).
46. Stanley Hauerwas on John Howard Yoder (1927-1997).
47. William Stringfellow (1928-1985).
48. Ian M. Fraser.
49. Carter Heyward.
50. Herbert McCabe (b. 1926).
51. Oscar Romero (1917-1980).
52. John Vincent.
53. The Kairos Document (1985).
54. Carlos Mesters.
55. The Interpretive Method of 'Unlock'.
56. Theology from the Perspective of 'Third-World' Women.
57. Sigqibo Dwane.
58. David Nicholls (1936-1996).
59. Sara Maitland.
60. Kenneth Leech (b. 1939).
61. Daniel Berrigan (1921-).
62. Gustavo Gutiérrez (1928-).
63. Thomas Hanks.
Index.
Reviews
"The organization and diversity of this work make it fairly distinctive. Recommended for seminary and academic libraries."
Library Journal
"Whilst diverse in subject, the editors have done a marvellous job in providing an editorial narrative that takes the reader apace through the ideas of this group of Christian thinkers, activists and theologians. This is what makes the book hard to put down - the authors' enthusiasm for their subject comes through in both their treatment of the individuals and of the literature. The book will undoubtedly become a useful source of study and reference material, but it is more than this. For me, it has provided a fascinating window onto some lesser-known authors who have developed ideas which provide a context for the thoughts of today's Christian socialists. It is not a book to be rushed through, but one to which I will enjoy returning and exploring again and again." Christian Socialist

"This compilation is a welcome contribution, combining as it does feminist and black theology themes with the incipient communism of the Civil War radicals." Anabaptism Today

"An inspiring collection." Church Times

"This book is a goldmine, which I have already put on the Reading List for a new course...This is essential for scholars, and a good read for many others as well." Reform

"[T]hose who read Radical Christian Writings with patience and proper guidance will find it an invaluable resource. Nowhere else is the range and depth of Christian social prophecy so fully displayed." Theology

"The book offers an easy introduction to subversive Christian thought through the ages and should be a welcome addition to the shelves of thoughtful Congregationalists whose history includes many forays into radical activity, as well as to Christians of all denominations." Congregational History Circle Magazine

"The 63 authors selected in this collection offer an exciting array of diverse insights into what is usually called 'the Christian tradition,' but perhaps should more accurately labeled 'the Christian traditions.'" The European Legacy
What's New


Identifies and traces the radical tradition within Christianity.


Makes available for the first time a comprehensive collection of radical Christian writings within one volume.


Includes over sixty extracts, including some which have been newly translated and many which have long been unavailable.


Includes a range of resources, such as letters, sermons, poems, liturgies and other writings from the third- to the twenty first century.