Radical Political Economy: Critique and Reformulation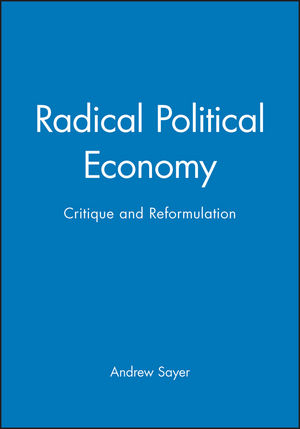 Radical Political Economy: Critique and Reformulation
ISBN: 978-0-631-19375-3
Aug 1995, Wiley-Blackwell
288 pages
Description
With the rise of the New Right, the demise of state socialism, and the development of concerns over the nature of modernity, the reception of Marxist and radical theories of capitalist society has become, to say the least, skeptical. In this book Andrew Sayer rethinks and reformulates radical political economy.

The author argues that Marxist theories of capitalism must learn both from the problems of socialism and, more controversially, from liberalism. In a major critique of Marxist and post-Marxist political economy he argues that one of its central problems may be traced to its treatment of the apparently innocuous concept of division of labor. This has led, he shows, to a confusion of the effects of markets and property relations. In consequence explanations of uneven development and of the distribution of power in advanced economies are flawed.

The author illustrates the argument by reference to the study of uneven spatial development. He concludes by outlining the constructive potential for a dialoge between radical political economy and liberal thought, and between critical social science and normative political philosophy.

Written in the author's characteristically direct and accessible style, this book will be widely read by students of contemporary capitalism and political economy in many disciplines.
Preface.
1. Introduction.
2. Questions of Method: Abstract Theory, Counterfactuals and Critical Standpoints.
3. Division of Labour and Economic Power: A Reconceptualisation.
4. Markets and Other Modes of Coordination.
5. Markets: Key Theoretical Debates and Evaluations.
6. Ownership and Control.
7. Non-Capitalist Economic Systems Compared.
8. The Critique Applied: Explanations of Uneven Development.
9. Implications.
Conclusion.
"This is an exceptional book and a touchstone for all future thinking about economics and social change. Sayer manages an extraordinary balancing act between the precepts of radical political economy and those of liberalism without ever losing his direction: the result is social theory at its best .... an innovative text in economic theory in its own right."
Richard A. Walker, Professor and Chair, Department of Geography, University of California, Berkeley
"Sayer's latest work deserves to reach the widest audience because its real drama lies in its exacting contribution to clear thinking over false impression." Times Higher Education Supplement
"Radical Political Economy is an important scholarly and political intervention, further reinforcing Andrew Sayer's reputation beyond a strictly geographical audience." Transactions of the IBG
* The first post-cold-war reformulation of radical political economy - from Adam Smith, to Marx, to Hayek.
* Accessible, trenchant, classic cutting-edge book of wide interest in the social sciences.