Radically Transparent: Monitoring and Managing Reputations Online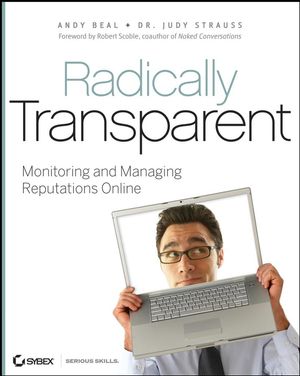 Description
The explosion of social media blogs, social networking sites, and video sharing sites has ushered in a new era of digital transparency that puts the power to enhance or destroy a reputation in the hands of the consumer. This timely and practical book shows you how to harness the power of social media with crucial, proven tactics and strategies for every phase of online reputation management. Using step-by-step instruction and tested techniques, the expert authors unveil a detailed blueprint for building, managing, monitoring, and repairing your reputation.
Foreword.
Introduction.
Part I: Understanding Your Online Reputation.
Chapter 1: Your World Is Now Radically Transparent.
Chapter 2: You Don't Own Your Company's Reputation.
Chapter 3: Developing Your Personal Brand.
Chapter 4: Navigating the New Rules of Engagement.
Part II: Building Your Radically Transparent Reputation.
Chapter 5: The Art of Generating Buzz.
Chapter 6: Managing Your Reputation with SEO.
Chapter 7: Using Multimedia Content to Engage Your Audience.
Chapter 8: Writing Engaging Text.
Chapter 9: The Power of Blogs.
Chapter 10: Social Networking.
Chapter 11: Your Online Activities: You Are What You Do.
Part III: Monitoring, Repairing, and Planning your Online Reputation.
Chapter 12: The Importance of Reputation Monitoring.
Chapter 13: Monitoring Your Online Reputation.
Chapter 14: Repairing Your Online Reputation.
Chapter 15: Seven-Step Action Plan.
Index.
Chapter
Page
Details
Date
Print Run
8
188
Text correction: hyphen in URL
Fourth and fifth lines: The URL has a hyphen inserted at the line break.
The correct URL is NetManners.com
2/29/08

---

2
20
Text correction
The last sentence in the first paragraph ends:
"...setting a goal of reaching $80 million..." It should say "$80 billion."
6/20/08
1st

---