Radio Frequency Circuit Design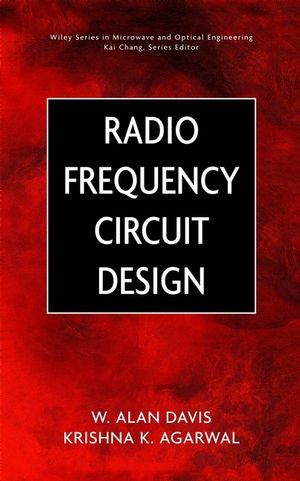 Radio Frequency Circuit Design
ISBN: 978-0-471-46388-7
Jun 2003
340 pages
Description
A much-needed, up-to-date guide to the rapidly growing area of RF circuit design, this book walks readers through a whole range of new and improved techniques for the analysis and design of receiver and transmitter circuits, illustrating them through examples from modern-day communications systems. The application of MMIC to RF design is also discussed.
Preface.
Communication Channel.
Resistors, Capacitors, and Inductors.
Impedance Matching.
Multiport Circuit Parameters and Transmission Lines.
Filter Design and Approximation.
Transmission Line Transformers.
Class A Amplifiers.
Noise.
RF Power Amplifiers.
Oscillators and Harmonic Generators.
RF Mixers.
Phase Lock Loops.
Emerging Technology.
Appendix A: Example of a Solenoid Design.
Appendix B: Analytical Spiral Inductor Model.
Appendix C: Double-Tuned Matching Circuit Example.
Appendix D: Two-Port Parameter Conversion.
Appendix E: Termination of a Transistor Port with a Load.
Appendix F: Transistor and Amplifier Formulas.
Appendix G: Transformed Frequency Domain Measurements Using Spice.
Appendix H: Single-Tone Intermodulation Distortion Suppression for Double-Balanced Mixers.
Index.
"...[the authors]...present in textbook form material used in a senior and graduate course in radio frequency circuit design." (SciTech Book News Vol. 25, No. 2 June 2001)