Radio in the Global Age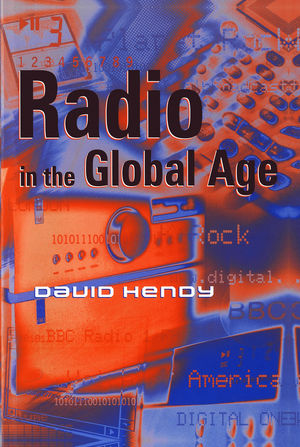 Radio in the Global Age
ISBN: 978-0-745-62069-5 October 2000 Polity 280 Pages
Description
Radio in the Global Age
offers a fresh, up-to-date, and wide-ranging introduction to the role of radio in contemporary society. It places radio, for the first time, in a global context, and pays special attention to the impact of the Internet, digitalization and globalization on the political-economy of radio. It also provides a new emphasis on the links between music and radio, the impact of formatting, and the broader cultural roles the medium plays in constructing identities and nurturing musical tastes.
Individual chapters explore the changing structures of the radio industry, the way programmes are produced, the act of listening and the construction of audiences, the different meanings attached to programmes, and the cultural impact of radio across the globe. David Hendy portrays a medium of extraordinary contradictions: a cheap and accessible means of communication, but also one increasingly dominated by rigid formats and multinational companies; a highly 'intimate' medium, but one capable of building large communities of listeners scattered across huge spaces; a force for nourishing regional identity, but also a pervasive broadcaster of globalized music products; a 'stimulus to the imagination', but a purveyor of the banal and of the routine. Drawing on recent research from as far afield as Africa, Australasia and Latin America, as well as from the UK and US, the book aims to explore and to explain these paradoxes - and, in the process, to offer an imaginative reworking of Marshall McLuhan's famous dictum that radio is one of the world's 'hot' media.

Radio in the Global Age is an invaluable text for undergraduates and researchers in media studies, communication studies, journalism, cultural studies, and musicology. It will also be of interest to practitioners and policy-makers in the radio industry.
Table of contents
List of Figures.
List of Table.
List of Boxes.
Acknowledgements.
Introduction.
Radio in the Social Landscape.
The Structure of this Book.
Chapter 1: Industry.
The Global Structure of Radio:.
Industrial Sectors.
Funding and Goals.
Local, National and International Dimensions.
Commercialization:.
Diversity.
Consolidation and Control.
Technology.
A Global or a Local Industry?.
Chapter 2: Production.
Producers:.
Producing 'actuality'.
Producing narratives.
Producing 'liveness'.
Time and Money.
Formats:.
Programme Formats.
Station Formats.
Schedules.
Creativity versus Predictability.
Chapter 3: Audiences.
The Act of Listening.
The Radio Audience.
The Active Audience.
Chapter 4: Meanings.
Radio as Communicator.
Radio texts: Talk and Music:.
Talk.
Music.
Radio and Modernity: Time, Place and 'Communicative Capacity'.
Time.
Place.
'Communicative Capacity'.
Chapter 5: Culture.
Radio and Democratic Culture.
Radio and Identity.
Radio, Music and Cultural Change.
Conclusion.
Bibliography.
Index
Reviews
'Part of what makes this book so engaging to read is its clear understanding and enjoyment of radio as a medium in its own right ... This book should serve to define what it is about radio that makes it so enduringly fascinating to listen to, to think about and study.'
Paddy Scannell
'David Hendy's Radio in the Global Age is the best introduction to contemporary radio I have read. Hendy has done a masterful job of providing an outstanding overview while making a compelling argument about the role radio does play - and should play - in the social landscape.' Robert W. McChesney, Institute of Communications Research, University of Illinois at Urbana-Champaign

'An invaluable introduction to radio today, with detailed illustrative material from all over the world. Hendy is a practising radio broadcaster and his professional understanding of the medium informs the whole book. It is beautifully written. An essential read.' Professor Paddy Scannell, University of Westminster

'David Hendy's engaging and wide-ranging study offers a galaxy of fascinating insights and revelations ... The book's international scope is impressive ... Media students and radio professionals should welcome the vast sweep and irrepressible enthusiasm of this important survey as a significant contribution to the expanding discipline of radio studies.' Times Higher Education Supplement

'The book is formidably researched, showing a knowledge both of current developments and the views of previous media scholars, which Hendy often expresses more clearly than they have. He writes like a true teacher: distinctions are carefully drawn, key points clearly itemized. But his is not just a taxonomy of modern radio, it is sprinkled with reflections which are clearly the result of some shrewd intellectual thinking ... an outstanding book - a milestone in radio studies.' European Journal of Communication

'Hendy rightly reminds us that radio should be central to discussions about the globalization of the music industry and the concomitant debates about identity and culture. This book, then, comes as a welcome intervention in the debates about media and globalization and offers an essential contribution to a better understanding of this "invisible medium". But Hendy does more than simply fit the radio piece into the jigsaw of globalized media, though this is undoubtedly a useful exercise in itself. With all its peculiarities as a medium of sounds in world of images, as an intimate, localized medium existing in the global age, putting the radio at centre stage allows some of the cliches about globalization to be problematized.' New Media and Society

'David Hendy's book is a well-informed, clearly written and judicious survey of radio at the beginning of the digital era.' Journal of Australian Studies
Features
A clear wide ranging introduction to radio and its significance today
APlaces radio in a global context bringing together for the first time research from around the world
AThe book discusses new research which covers a substantial range of topics, including alternative rock stations in the US, the impact of the internet, political-economic aspects of digital broadcasting and the relationship between the radio and the music industries
AThe author highlights the unique character of radio, but also shows how the study of radio sheds light on some of the key issues in media studies such as globalization, modernity and the 'active audience'