Radionuclides in the Environment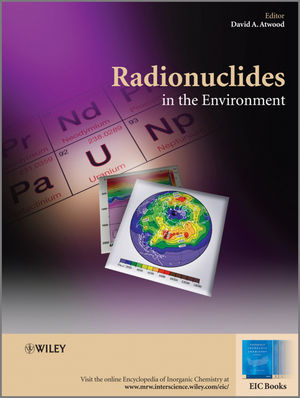 Radionuclides in the Environment
ISBN: 978-1-118-63269-7 February 2013 560 Pages
Description
Nuclear energy is the one energy source that could meet the world's growing energy needs and provide a smooth transition from fossil fuels to renewable energy in the coming decades and centuries. It is becoming abundantly clear that an increase in nuclear energy capacity will, and probably must, take place.

However, nuclear energy and the use of radionuclides for civilian and military purposes lead to extremely long-lived waste that is costly and highly problematic to deal with. Therefore, it is critically important ot understand the environmental implications of radionuclides for ecosystems and human health if nuclear energy is to be used to avoid the impending global energy crisis. The present volume of the EIC Books series addresses this critical need by providing fundamental information on environmentally significant radionuclides.

The content of this book was developed in collaboration with many of the authors of the chapters. Given the enormity of the subject the Editor and the Authors had to be judicious in selecting the chapters that would appropriately encompass and describe the primary topics, particularly those that are of importance to the health of ecosystems and humans. The resulting chapters were chosen to provide this information in a book of useful and appropriate length. Each chapter provides fundamental information on the chemistry of the radionuclides, their occurrence and movement in the enivornment, separation and analyses, and the technologies needed for their remediation and mitigation. The chapters are structured with a common, systematic format in order to facilitate comparions between elements and groups of elements.

About EIC Books

The Encyclopedia of Inorganic Chemistry (EIC) has proved to be one of the defining standards in inorganic chemistry, and most chemistry libraries around the world have access either to the first of second print editon, or to the online version. Many readers, however, prefer to have more concise thematic volumes, targeted to their specific area of interest. This feedback from EIC readers has encouraged the Editors to plan a series of EIC Books, focusing on topics of current interest. They will appear on a regular basis, and will feature leading scholars in their fields. Like the Encyclopedia, EIC Books aims to provide both the starting research student and the confirmed research worker with a critical distillation of the leading concepts in inorganic and bioinorganic chemistry, and provide a structured entry into the fields covered.

This volume is also available as part of Encyclopedia of Inorganic Chemistry, 5 Volume Set.

This set combines all volumes published as EIC Books from 2007 to 2010, representing areas of key developments in the field of inorganic chemistry published in the Encyclopedia of Inorganic Chemistry. Find out more.
Contributors.
Series Preface.
Volume Preface.
Natural Radioactivity (Dominic Larivière and Nicolas Guérin).
Anthropogenic Radioactivity (Jerzy W. Mietelski).
Speciation (Brit Salbu).
Tritium (Dan Galeriu and Anca Melintescu).
Potassium (Taehong Jun, Olga G. Tsay and David G. Churchill).
Cesium (Enrique Lima).
Strontium (Francisco Javier Guillén, Antonio Baeza, and Alejandro Salas).
Radium (Hildegarde Vandenhove, Freddy Verrezen and Edward R. Landa).
Phosphorus (Kibong Kim and David G. Churchill).
Sulfur (Olga G. Tsay and David G. Churchill).
Selenium (George Shaw and Daniel Ashworth).
Indium (Rudolf J. Wehmschulte).
Thallium (Rudolf J. Wehmschulte).
Lead (Asnor Azrin Sabuti and Che Abd Rahim Mohamed).
Polonium (Lubna Alam and Che Abd Rahim Mohamed).
Chlorine (Daniel Ashworth and George Shaw).
Iodine (Qinhong Hu and Jean E. Moran).
Xenon (Paul R.J. Saey).
Radon (Bliss L. Tracy).
Cobalt (Enrique Lima).
Technetium (Qinhong Hu).
Rhenium (Keiko Tagami and Shigeo Uchida).
Europium (Xiangke Wang and Jiaxing Li).
Thorium (Zal Uyun Wan Mahmood and Che Abd Rahim Mohamed).
Protactinium (Asamuddin Abu Hasan and Che Abd Rahim Mohamed).
Uranium (Hildegarde Vandenhove, Christian Hurtgen and Timothy E. Payne).
Neptunium (Wolfgang Runde and George S. Goff).
Plutonium (Mary P. Neu, George S. Goff and Wolfgang Runde).
Americium and Curium (Wolfgang Runde).
Oceans and Seas (Michio Aoyama).
Pacific Ocean (Michio Aoyama).
Atlantic Ocean (Peter Kershaw).
Indian Ocean (Pavel P. Povinec).
Arctic Ocean (Agata Zaborska and JoLynn Carroll).
Mediterranean Sea (Roberta Delfanti and Carlo Papucci).
Baltic Sea (Sven P. Nielsen, Maria Lüning, Erkki Ilus, Iisa Outola, Tarja Ikäheimonen, Jukka Mattila, Jürgen Herrmann, Günther Kanisch, Iolanda Osvath).
Black Sea (Victor Egorov, Sergey Gulin and Gennady Polikarpov and Iolanda Osvath).
Global Trends in Cesium Distribution (Yayoi Inomata).
Civilian Nuclear Accidents (Wolfgang Runde, Mary P. Neu, and George S. Goff).
Oak Ridge Reservation (Philip M. Jardine, Scott C. Brooks and David B. Watson).
Index.