Rain: What a Paperboy Learned About Business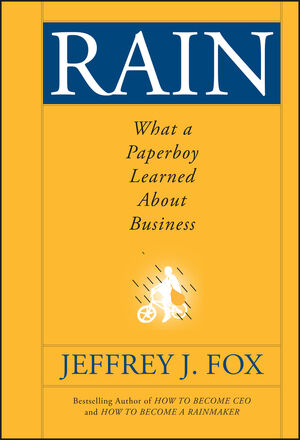 Rain: What a Paperboy Learned About Business
ISBN: 978-0-470-40853-7 February 2009 Jossey-Bass 176 Pages
Description
RAIN is the first business parable written by bestselling business book author Jeffrey J. Fox. The parable follows a young New England paperboy, named Rain, as he learns the business of being in business and quickly becomes the best paperboy in town.

Through a series of humorous poignant vignettes, Jeff illustrates forty "rainmaker" business lessons that can be applied to not only paperboys, but anyone in business and sales. Rain's time as a paperboy proves to be just as valuable as getting an MBA.

As with Jossey-Bass' popular Lencioni business fables, the format for Rain includes an actionable business model at the end of the book with instant takeaways and practical advice.
Cannot be combined with any other offers.
Original Price:$46.90
Purchased together:$35.18
save $11.72
Cannot be combined with any other offers.
Original Price:$56.95
Purchased together:$42.71
save $14.24
Table of contents
Preface.
Acknowledgments.
Get Up: A Prologue.
1 Opportunity.
2 Interview Planning.
3 Interview.
4 Money.
5 The Dinner Table.
6 Day One.
7 Mean Dogs.
8 The Ten Customer Commandments.
9 The Sundays.
10 Referrals.
11 The Contest.
12 Luck.
13 Bonus.
14 The Bully (Part I).
15 Green Lightning.
16 Innovation.
17 Coffee.
18 Rookie.
19 Photo.
20 Crime and Punishment.
21 Collections.
22 Ice.
23 Exit Strategy.
24 Valuation.
25 Negotiation.
26 The New Kid.
27 The Bully (Part II).
28 Vern.
29 Getting an M.B.A.
The Rain Reader.
Epilogue.
About the Author.