Raising Baby Green: The Earth-Friendly Guide to Pregnancy, Childbirth, and Baby Care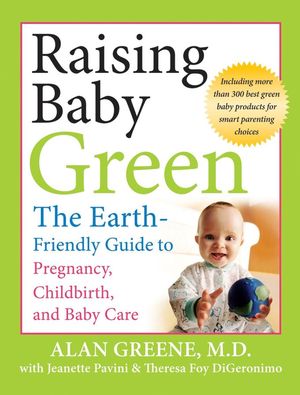 Raising Baby Green: The Earth-Friendly Guide to Pregnancy, Childbirth, and Baby Care
ISBN: 978-1-118-04756-9
Dec 2010, Jossey-Bass
320 pages
Description
In this illustrated and easy-to-use guide, noted pediatrician Dr. Alan Greene, a leading voice of the green baby movement, advises parents how to make healthy green choices for pregnancy, childbirth, and baby care—from feeding your baby the best food available to using medicines wisely. Consumer advocate Jeanette Pavini includes information for making smart choices and applying green principles to a whole new universe of products from zero-VOC paints for the nursery, to pure and gentle lotions for baby's delicate skin, to the eco-friendly diapers now in the marketplace, as well as specific recommendations for hundreds of other products.
ACKNOWLEDGMENTS.
INTRODUCTION :Why Raise Baby Green?
CHAPTER ONE : The Womb.
Make sure your unborn baby receives the best possible nutrition and other vital elements through the green choices you make in your diet and lifestyle. Learn about the crucial impact of the environment on you and your baby.
CHAPTER TWO : The Labor and Delivery Room.
Fulfill your green birth plan to bring your baby into the world in the right place with the right people and with the type of delivery you feel is best.
CHAPTER THREE : The Nursery.
Create a beautiful, healthy environment with green furnishings, paint, wall coverings, flooring, bedding, clothing, and toys.
CHAPTER FOUR : The Kitchen.
Reduce your baby's exposure to pesticides and other toxins, help clean up the planet, save energy, and reduce greenhouse gasses, just by eating the right delicious foods.
CHAPTER FIVE : The Bathroom.
Care for your baby with the best new choices in creams and lotions, save water, and stock your medicine chest with the safest remedies.
CHAPTER SIX : The Garden.
Whether you live in a house with a garden or in an apartment with pots in a sunny window, here's how to have healthy plants and organic homegrown edibles in your baby's life.
CHAPTER SEVEN : The Whole House.
Improve the air quality, lighting, water conservation, laundry, heating, and cooling throughout your home—and in your automobile, which has such an impact on the health of the family and the planet.
EPILOGUE : From the Ground Up.
NOTES.
Citations and sources for information in the text.
GREEN INFORMATION.
More valuable information about each room in the house.
GREEN RESOURCES.
Books,Web sites, organizations, and other forms of support and connections in the green baby community.
THE AUTHORS.
INDEX.
Winner of the Nautilus Book Awards Gold Medal for "BEST PARENTING BOOK OF THE YEAR"
Greene, a Stanford pediatrician and author of the popular web site drgreene.com, teams up with a consumer health reporter and an author of parenting books to give parents ecofriendly options for pregnancy, birth, and parenting. Everything from choosing the best diapers to selecting nontoxic nursery paint and organic baby food is offered along with commonsense advice about diaper rash and food allergies. These are excellent companions to more traditional parenting books by the likes of T. Berry Brazelton. (Library Journal, February 1, 2008)
""a leading figure in the green baby movement."" (Library Journal, January 2008)
In this second of only two recently published books on environmentally friendly child rearing—the other being Kimberly Rider's Organic Baby: Simple Steps for Healthy Living—pediatrician Greene (Stanford Univ. Sch. of Medicine) provides an exemplary information and reference resource for parents concerned with doing their part to raise a healthy child in an ecoconscious manner. Organized by developmental stages, the text features Greene advising on what to feed the baby and how to administer medicine safely; Jeanette Pavini, a consumer watch reporter for CBS Eyewitness News in San Francisco, recommends how to shop responsibly for diapers, bedding, cribs, toys, etc. While the book is specifically geared toward new parents, its well-cited data about environmental hazards, coupled with the practical tips for green living, are suitable for anyone wanting to learn more about individual efforts to increase environmental sustainability. A solid niche filler on green parenting; recommended for all public libraries.
—Susan E. Thomas, Indiana Univ. Lib., South Bend (Library Journal, October 23, 2007)
Pediatrician Greene, a leading figure in the green baby movement, enthusiastically discusses everything from what to take with you to the delivery room to questions to ask hospitals/birth centers, about how green they are. ""Buying Green"" text boxes give contact info for recommended retailers or products of all types, useful for comparison shopping. (LJ Xpress Review, 10/16/07)
""Pediatrician Greene's informative guide for raising children in the most environmentally friendly way possible makes for some fascinating (and surprising) reading. From pregnancy and childbirth to nursery design and gardening, Greene covers hundreds of questions and situations new parents will face and provides a nonstop flow of sensible answers. His evenhanded tone makes this an excellent choice for audiences as varied as committed vegans to those who are considering purchasing organic milk. There is no pressure to ""convert,"" and readers will find plenty of options for how little or much they want to commit to a new lifestyle. The book's layout is particularly impressive, with boxed comments from other parents, lists of recommended products and food, and numerous links to helpful sites. From diapers to food allergies, Greene has a thoughtful, nonbiased response to nearly every question a new parent could have. He gives his own opinions, but always states as much, and never! derides the choices of others. An excellent choice for those who don't know where to begin when it comes to environmental parenting."" (Booklist, September 2007)
Dr. Greene provides a lucid, helpful guide for parenting in the 21st century.""
—Julius B. Richmond, MD, Harvard Medical School, Founding Director of Project Head Start, and Former U.S. Surgeon-General
""I urge parents, old and new, to read this book and to keep it on a visible bookshelf, so that these messages of simple change can be passed on until we've raised a generation of healthy children in a balanced and healthy planet.""
—Sara Snow, TV Host / Green Living Expert, Host of ""Get Fresh with Sara Snow"" on Discovery Health
""Raising Baby Green is an informed, practical, and hopeful green guide... Alan Greene is a nationally recognized pediatrician whose expertise in creating safe environments for children is a gift to us all.""
—Michael Lerner, PhD, President Commonweal and Co-Founder of the Collaborative on Health and the Environment
""Dr. Greene's understanding and knowledge of the green and organic lifestyle surpasses that of anyone I know…. I will recommend this book to every prospective parent I encounter.""
—Anna Getty, Prenatal yoga teacher, mother, and eco-lifestyle expert
""What a great opportunity to learn, discover, and empower yourself with the essential tools to raise your child in safer, healthier, and greener ways… It is easier than you think.""
—Christopher Gavigan, CEO, Healthy Child Healthy World (formerly CHEC)
""This book is your bible. It's written by the Web's #1 pediatrician, and one of the country's most effective champions for protecting kids and the rest of us from environmental contaminants. Want to raise baby Green? The doctor will see you—now!""
—Ken Cook, President, Environmental Working Group
""Raising Baby Green does a great job helping parents raise healthier children. As Dr. Greene so wisely says, what's good for our environment is also good for our babies… By following Dr. Greene's suggestions our children can have longer, healthier lives, a smaller environmental footprint, and a healthier planet to inhabit.""
—Erica Frank, MD, MPH, President, Physicians for Social Responsibility, Canada Research Chair in Preventive Medicine and Population Health and mother of Ridge Frank-White
""I found Raising Baby Green a wonderful guide to raising healthy babies and children. The book reflects Alan Greene's evolution as a pediatrician and it brings together science, expert opinion and experiential knowledge in an easy-to-follow book. It is a gem.""
—Philip Lee, MD, Former United States Assistant Secretary of Health, Chancellor of the University of California at San Francisco, Professor at Stanford University
""This is a marvelous and much-needed book. I can't wait for it to be published so I can share it with my colleagues, friends and the concerned pregnant women and new parents who contact me seeking information on ways to reduce their and their baby's exposure to potentially harmful environmental chemicals. This book will be just what they are looking for.""
—Shanna Swan, PhD, Professor, Obstetrics and Gynecology, Director, Center for Reproductive Epidemiology, University of Rochester School of Medicine and Dentistry
""Ever wonder what organic, green, or natural mean? Ever wonder if it's for you? Read this book! In easy to understand terms Dr. Greene explains what nature intended: healthy babies equal healthy lives. This is the child raising map you're looking for!""
—Steve Demos, Founder and Retired CEO Silk Soymilk
""I wish I had this book when my daughter was born. Dr. Greene's ability to communicate how nutrition, organics, and the environment impact health puts him in a class all by himself.""
—Akasha Richmond, Chef-owner, Akasha
""Dr Alan Greene has produced a very thoughtful, immensely practical book that offers sound advice on how to raise healthy children while treading lightly upon the earth. I recommend Dr Greene's book for parents and for all who care for children.""
—Philip J. Landrigan, MD, MSc, Professor and Chairman Department of Community & Preventive Medicine Professor of Pediatrics Mount Sinai School of Medicine
""Great book by a great physician. Loaded with illustrations and hundreds of product evaluations, this is a unique package for parents—I love it!""
—Anthony Zolezzi, Author, Chemical Free Kids
""Alan Greene is a thoughtful scientist offering practical wisdom to parents. Even the small changes he recommends can make a big difference.""
—Rosalind Creasy, Author, The Complete Book of Edible Landscaping
""It takes more than good luck and unconditional love to raise a healthy child today. Raising Baby Green is a tool kit and manifest for moms and dads that want to tilt the odds in favor of five fingers, five toes, and a brain that can cope with what is coming next.""
—Charles Benbrook, PhD, Chief Scientist, The Organic Center
""Dr. Alan Greene's book, Raising Baby Green is a lifesaver! Sixteen years ago, we lost our only child at age five to a non-hereditary cancer which we believed could have been prevented. Dr. Greene's book is more than a practical green guide—it is the only lifestyle that can assure the essential first steps to a lifetime of well-being. Thank you for giving millions of parents the knowledge to make a difference in their lives for their children and the planet.""
—Nancy and James Chuda, Founders of (CHEC) Healthy Child Healthy World and The Colette Chuda Environmental Fund
""As I travel the country for my green living TV series I see eyes and minds open when parents learn they are going to bring a baby into this world; suddenly they want to create a healthy home environment with a kitchen full of healthy foods. The opportunity and desire for positive change is, in my opinion, never stronger. Dr. Greene, in his professional and parental way, has provided an excellent guidebook for that. I urge parents, old and new, to read this book and to keep it on a visible bookshelf, so that these messages of simple change can be passed on until we've raised a generation of healthy children in a balanced and healthy planet.""
—Sara Snow, TV Host / Green Living Expert, Host of ""Get Fresh with Sara Snow"" on Discovery Health
""The wide angle truth is that everything matters. With this common sense, science-backed book, difficult questions find thoughtful, experienced, truly intelligent answers. Our future depends upon parents making smarter decisions. This road map will help guide the journey. Get this book to everyone you know with children.""
—Doug Greene, Co-founder, New Hope Natural Media
""Every new mother and mother-to-be needs to read Raising Baby Green. Dr. Greene's understanding and knowledge of the green and organic lifestyle surpasses that of anyone I know. This book will contribute immensely toward the future of our children and that of the planet. I will recommend this book to every prospective parent I encounter.""
—Anna Getty, Prenatal yoga teacher, mother, and eco-lifestyle expert
""The best green baby book I've ever read.""
—Christopher Moore, Best Selling Author of Fluke
""What a great opportunity to learn, discover, and empower yourself with the essential tools to raise your child in safer, healthier, and greener ways. Dr. Greene's book is about the simple tips in the right direction for a Healthy Child in a Healthy World - and it is easier than you think.""
—Christopher Gavigan, CEO, Healthy Child Healthy World (formerly CHEC)
""Dr. Alan Greene, through his work and through this book, is a pioneer in teaching parents the connection between a healthy environment, organic products and healthy, vibrant, happy babies.""
—Steven Hoffman, Interim Executive Director, The Organic Center, Co-founder, LOHAS Journal and the LOHAS conference
""This book should be in the hands of all parents. Dr. Greene provides a lucid, helpful guide for parenting in the 21st century.""
—Julius B. Richmond, MD, Harvard Medical School, Founding Director of Project Head Start, and Former U.S. Surgeon-General
""Raising Baby Green is an informed, practical, and hopeful green guide to having a healthy baby. Alan Greene is a nationally recognized pediatrician whose expertise in creating safe environments for children is a gift to us all. This book can make a difference not only in your baby's health, but in the health of your whole family, your community, and our beautiful earth.""
—Michael Lerner, PhD, President Commonweal and Co-Founder of the Collaborative on Health and the Environment