Raising Capital For Dummies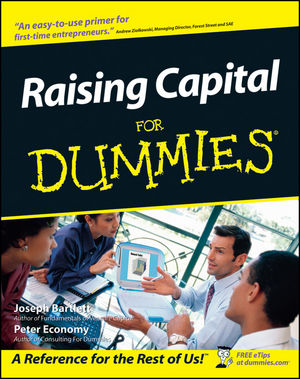 Raising Capital For Dummies
ISBN: 978-1-118-06957-8 April 2011 336 Pages
Download Product Flyer
Download Product Flyer
Download Product Flyer is to download PDF in new tab. This is a dummy description. Download Product Flyer is to download PDF in new tab. This is a dummy description. Download Product Flyer is to download PDF in new tab. This is a dummy description. Download Product Flyer is to download PDF in new tab. This is a dummy description.
Description
While raising capital has never been easy, it has become a lot more difficult over the past few years. The dot-com debacle has made investors skittish, especially when it comes to financing early-stage start-ups. As a result, more and more entrepreneurs are being forced to compete harder and harder for a spot around the money well. At the end of the day, all most have to show for their efforts are tattered Rolodexes and battered egos. What they need is the competitive edge that comes with having a friend in the business–an advisor who'll cut through the mumbo-jumbo and tell them in plain English how to get the money they need. What they need is
Raising Capital For Dummies
.
Whether you're just starting your business and need a little seed capital to launch your first product, or you're looking for a little help expanding an established business into a new market, this friendly guide helps you get the financing you need to realize your dreams. You'll discover how to:
Tap personal sources of financing, as well as family and friends
Approach customers and vendors for financing
Hook up with commercial lenders
Find angel investors 
Get an SBA loan
Raise cash through private equity offerings
Woo and win investment bankers and venture capitalists
Venture capital guru, Joseph Bartlett explains in plain English the capital-raising strategies and techniques used by some of today's most successful businesses, including tried-and-true methods for:
Assessing your financial needs and creating a solid financial plan
Researching sources of financing and making first contact
Finding, contacting, and convincing angels
Getting your customers to finance your company
Understanding and exploiting matching services
Exploring commercial banks, savings institutions, credit unions, finance companies, and the SBA
Qualifying for a loan
Working with placement agents
Raising cash through IPOs and mergers
From raising seed capital and funds for expansion to IPOs and acquisitions, Raising Capital For Dummies shows you how to get the money you need to survive and thrive in today's winner-take-all marketplace.
Table of contents
Introduction.

Part I: First-Stage Financing: Seed Capital and Start-up.

Chapter 1: It Takes Money to Make Money.

Chapter 2: Tapping into Your Personal Resources.

Chapter 3: The Rolodex Round: Family and Friends.

Chapter 4: Angel Investors.

Chapter 5: Customers and Vendors.

Chapter 6: Matching Services

Part II: Second-Stage Financing: Expansion.

Chapter 7: Commercial Lenders.

Chapter 8: Placement Agents.

Chapter 9: The Small Business Administration.

Chapter 10: Private Equity Offerings.

Chapter 11: Venture Capital.

Chapter 12: Valuation.

Chapter 13: Lease Financing.

Part III: Third-Stage Financing: Acquisition.

Chapter 14: Investment Banks.

Chapter 15: Initial Public Offering.

Chapter 16: Mergers.

Part IV: The Part of Tens.

Chapter 17: Ten Best Sources of Fast Cash.

Chapter 18: Ten Creative Ways to Raise capital.

Chapter 19: Ten Steps to Improve Your Cash Flow--Now!

Glossary.

Index.
Reviews
First there was "Dating for Dummies," then "Indoor Grilling for Dummies " and now ... "Raising Capital for Dummies."
The newest how-to book for novices from Wiley Publishing Inc., the publishers of the popular "Dummies" series, comes at what could be a wickedly good time. With venture capitalists retrenching and so-called angel investors burned by the dot-com meltdown, fund-raising has become a tough task for venture capitalists.
"There's a lot of places to look for money that just doesn't occur to people," said Joseph Bartlett, co-author of the "Raising Capital for Dummies " book.
Offering advice from finding government resources to tapping friends and family members for cash without causing feuds, the Dummies guide walks business execs from the "embryo to the IPO" stages of a company's cash needs, says Mr. Bartlett.
If all else fails and a fund-raising effort comes up short, there's another guide that might be worth checking out: "Job Hunting for Dummies. (The Wall Street Journal, September 6, 2002)