Raising Smart Kids For Dummies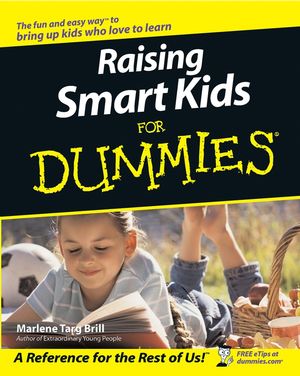 Raising Smart Kids For Dummies
ISBN: 978-0-764-51765-5 May 2003 360 Pages
Description
So, you wanna turn Junior into a smarty-pants? What parent doesn't? Thing is, kids nowadays are more independent than ever and aren't always receptive to what parents want. In fact, if you tell your kids that studying is "good for them," they're more than likely to mumble, "Yeah, sure," in your general direction and head off to do something "fun."

Sharpening the minds of your youngsters presents more challenges than climbing Mt. Everest, and the responsibility of making your kids use more of their brain cells can be overwhelming – even when you don't encounter resistance. Raising smart kids requires long-term commitment, sacrifice, and diligence – not to mention the patience of a saint. And as long as you don't obsess about being the perfect parent, you will be able to enjoy your kids' journey of self-discovery right along with them.

But how do you accomplish this? How do you overcome the resistance? How do you tackle the overwhelming task of not only helping your children succeed in school, but also increasing their ability to make their own way in the world? That's where Raising Smart Kids For Dummies steps in to help.

Written in easy-to-understand terms (and absolutely no slick psycho-babble), this book gives you sound advice on encouraging your kids to set their sights high and achieve success, whether at school, with friends, or in your community. And you don't have to be a new parent to gain insight from this book; experienced parents can reap rewards with the help of this book in their effort to raise fulfilled children.

Here's just a sampling of what you'll find in Raising Smart Kids For Dummies:
Recognizing the characteristics of smart kids
Knowing when to push – and when not to
Disciplining your kids in a positive way
Growing smarter kids from healthier bodies
Planning the development of your kids' brains: From newborns to teenagers
Taking your smart kids beyond high school
Eliminating brain drain from school-skipping, drug abuse, and raging hormones
Top Ten lists of family characteristics that nurture smart kids, what smart kids read, and resources for bolstering parents' confidence
You've heard it said a thousand times: The children are the future. Children have such potential, but rarely live up to it. Why take this chance with your own kids? Make the commitment to prepare your kids for life on their own. With Raising Smart Kids For Dummies, you, too, can achieve success – and have a little fun along the way!
Introduction.
Part I: Getting Off to a Good Start.
Chapter 1: Defining Smarts.
Chapter 2: Realizing That You Can Raise a Brain.
Chapter 3: Disciplining in a Positive Way.
Chapter 4: Growing Smarter Minds from Healthier Bodies.
Part II: The Early Years: Birth to Kindergarten.
Chapter 5: Before Your Baby Is Born.
Chapter 6: Energizing Your Baby through the Senses.
Chapter 7: Pumping Up Your Smart Toddler/Preschooler.
Chapter 8: Setting Boundaries That Matter.
Chapter 9: You're Not Alone! Finding Help and Support.
Chapter 10: Preparing for Big-Kid School.
Part III: The Eager-to-Learn Years: Elementary School.
Chapter 11: Nurturing Your Smart Student at Home.
Chapter 12: Monitoring Media.
Chapter 13: Launching Lifelong Study Habits.
Chapter 14: Connecting with School.
Chapter 15: Developing Smarts for Success Outside of School.
Chapter 16: Deciding to Switch Learning Situations.
Part IV: The Know-It-All Years: Middle School and High School.
Chapter 17: Working wirh the Teenage Psyche.
Chapter 18: Eliminating Brain Drain.
Chapter 19: Thinking Beyond High School.
Part V: The Part of Tens.
Chapter 20: Ten Family Characteristics That Nurture Smart Kids.
Chapter 21: Ten Popular Reads from Preschool to Teen Years.
Chapter 22: Ten Resources That Bolster Parent Confidence.
Index.