Ramesside Inscriptions, Volume II, Ramesses II, Royal Inscriptions: Translated and Annotated, Notes and Comments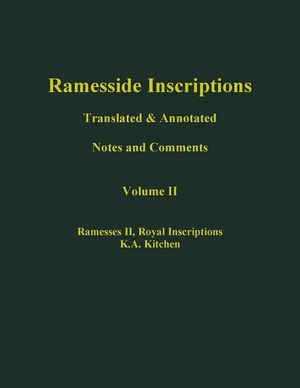 Ramesside Inscriptions, Volume II, Ramesses II, Royal Inscriptions: Translated and Annotated, Notes and Comments
ISBN: 978-0-631-18435-5
Dec 1998, Wiley-Blackwell
704 pages
Description
This volume provides an entirely fresh, comprehensive treatment of the Battle of Qadesh and all the other wars and campaigns of Ramesses II.
Contents.
Abbreviations and Sigla.
Preface.
By Way of Introduction.
Part I: Ramesses II:.
The Wars of Ramesses II.
Dated Documents.
Undated War-Scenes: Thebes and Upper Egypt.
Triumph-Scenes and Lists: Lower Egypt.
Undated War-Scenes and Lists: Nubian Temples.
Levantine Stelae.
Documents of Peace.
'Rhetorical' Stelae.
Works of Peace.
Burials odf the Sacred Bulls.
The Royal Jubilees (Sed-Festivals).
Other Dated Inscriptions.
Other Royal Monuments- Geographical Series.
Part II: East Delta:.
Eastern Approaches.
The Delta Residence.
Other East-Delta Sites.
Part III: Central Delta: .
North.
South.
Part IV: West Delta: .
Part V: The Libyan Marches:.
Part VI: Heliopolis: .
Part VII: Memphis: .
Part VIII: Middle to Upper Egypt: .
Part IX: Abydos: .
Part X: Thebes:.
Karnak: Temples of Montu/Maat, Amun, Mut.
Luxor: Temple of Amun.
Part XI: Thebes: West Bank:.
Qurneh: Temple of Sethos I.
The Ramesseum.
Valley of Kings, Deir el-Medina and Others.
Part XII: Nubia:.
Miscellaneous and Minor Monuments (Royal).
Documents of the Reign.
Part XIII: Royal Family: .
Queen - Mother Tuya.
The Queens-Consort.
Queen Nefertari.
Queen Istnofret.
Queen Hentmire.
Queen Maathorneferure and her sister.
The List of Princes.
Monuments of Individual Princes.
The Lists of Princesses.
Monuments of Individual Princesses.
Part XIV: Addenda et Corrigenda: .
Indexes.


An indispensable source of information and scholarship on one of the most important periods of Egyptian history.


Notes and commenst related directly to Kitchen's Translations.