Ramesside Inscriptions, Volume II, Ramesses II, Royal Inscriptions: Translated and Annotated, Translations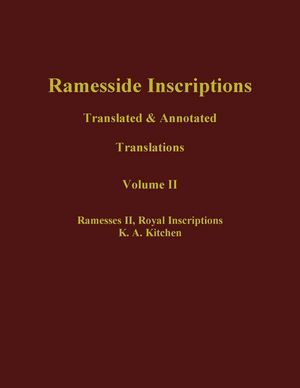 Ramesside Inscriptions, Volume II, Ramesses II, Royal Inscriptions: Translated and Annotated, Translations
ISBN: 978-0-631-18427-0
Apr 1996, Wiley-Blackwell
648 pages
Description
This edition based on the hieroglyphic texts of the Ramesses Age of Ancient Egypt (c.1300-1100 BC) presents a modern English translation of the vast majority of historical sources for this important epoch of Egyptian history.
Abbreviations and Sigla.
Preface.
Translations of Ramesses 1: Royal Inscriptions.
"A vital source of knowledge for the whole of the East Mediterranean and Ancient Near East wrolds." Annual Egyptological Bibliography <!--end-->


Translations of inscriptions are accompanied by notes and comments.


This volume comprises the prime source material for one of the most important periods of Egyptian history (c.1300-1100 BC).


The fruit of 40 years research by the world's leading scholar.