Rancière, Public Education and the Taming of Democracy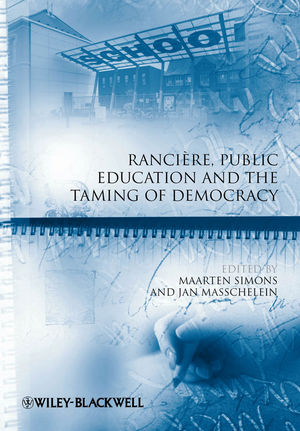 Rancière, Public Education and the Taming of Democracy
ISBN: 978-1-444-39385-9 September 2011 Wiley-Blackwell 208 Pages
Description
Rancière, Public Education and the Taming of Democracy introduces the political and educational ideas of Jacques Rancière, a leading philosopher increasingly important in educational theory. In light of his ideas, the volume explores the current concern for democracy and equality in relation to education.
The book introduces and discusses the works of Jacques Rancière, a leading philosopher increasingly important in the field of educational theory and philosophy

The volume will have a broad appeal to those in the field of education theory and philosophy, and those concerned with democracy, equal opportunities and pedagogy

Balanced in its introduction of the political and educational ideas of this author and in its exploration in line with his work of some important issues in education and policy today

Contributors from diverse countries and intellectual and cultural backgrounds, including the UK, US, Belgium, Sweden, Spain, France, Canada 

Notes on Contributors.
Foreword (Michael A. Peters).
1. Introduction: Hatred of Democracy ... and of the Public Role of Education? (Maarten Simons and Jan Masschelein).
2. The Public Role of Teaching: To Keep the Door Closed (Goele Cornelissen).
3. Learner, Student, Speaker: Why It Matters How We Call Those We Teach (Gert Biesta).
4. Ignorance and Translation, 'Artifacts' for Practices of Equality (Marc Derycke).
5. Democratic Education: An (im)possibility That Yet Remains to Come (Daniel Friedrich, Bryn Jaastad and Thomas S. Popkewitz)
6. Governmental, Political and Pedagogic Subjectivation: Foucault with Rancière (Maarten Simons and Jan Masschelein).
7. The Immigrant Has No Proper Name: The Disease of Consensual Democracy Within the Myth of Schooling (Carl Anders Säfström).
8. Queer Politics in Schools: A Rancièrean Reading (Claudia W. Ruitenberg).
9. Paulo Freire's Last Laugh: Rethinking Critical Pedagogy's Funny Bone Through Jacques Rancière (Tyson Edward Lewis).
10. Settling no Conflict in the Public Place: Truth in Education, and in Rancièrean Scholarship (Charles Bingham).
11. The Hatred of Public Schooling: The School as the Mark of Democracy (Jan Masschelein and Maarten Simons).
12. Endgame: Reading, Writing, Talking (and Perhaps Thinking) in a Faculty of Education (Jorge Larrosa).
Index.