Rapeseed and Canola Oil: Production, Processing, Properties and Uses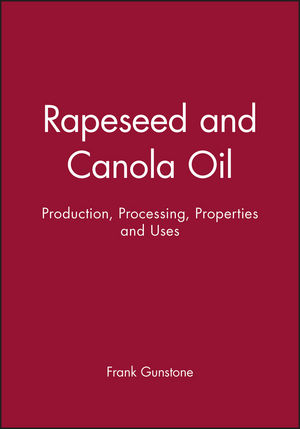 Rapeseed and Canola Oil: Production, Processing, Properties and Uses
ISBN: 978-1-405-14792-7
Feb 2009, Wiley-Blackwell
240 pages
Description
Rapeseed is now the second largest oilseed crop after soybean, and the third largest vegetable oil after soybean oil and palm oil, and it is therefore an important contributor to the annual supply of vegetable oils required to meet an increasing demand.





This volume provides comprehensive coverage of rapeseed oil and its close relative, canola oil, from production (agronomic) aspects, through extraction to refining and processing. Chemical composition, physico-chemical properties, food and non-food uses are considered in detail, and a chapter is included on future prospects, including oils available by means of genetic manipulation.





This is a book for oils and fats chemists and technologists in the food and oleochemical industries, chemical engineers in the processing industry, nutritionists and seed technologists.
1. Rapeseeds and rapeseed oil – agronomy, production, and trade.
Elaine J. Booth, Scottish Agricultural College, Aberdeenshire, UK and Frank D. Gunstone, University of St Andrews and Scottish Crop Research Institute, Dundee, UK.
2. Extraction and refining.
Elaine J. Booth, Scottish Agricultural College, Aberdeenshire, UK.
3. Chemical composition of canola and rapeseed oils.
W. Nimal Ratnayake, Health Canada, Ottawa, Canada and James K. Daun, Grain Research Laboratory, Winnipeg, Canada.
4. Chemical and physical properties of canola and rapeseed oil.
Dérick Rousseau, Ryerson University , Toronto, Canada.
5. High erucic oil: its production and uses.
Clare Temple-Heald, Croda Chemicals Europe Ltd, Hull, UK.
6. Food uses and nutritional properties.
Bruce E. McDonald, Manitoba Health Research Council, Winnipeg, Canada.
7. Non-food uses.
Kerr Walker, Scottish Agricultural College, Aberdeenshire, UK.
8. Potential and future prospects for rapeseed oil.
Christian Möllers, University of Goettingen, Germany.
References.
Index
"For all those interested in canola and rapeseed, this book is a very valuable update. Most chapters include a very extensive list of references for in-depth reading. The book should be a 'must' for those directly involved in growing, processing and using canola and rapeseed oil as an up-to-date source of information."
inform, February 2005
"This book provides comprehensive coverate of the production, processing, properties and uses of rapeseed and canola oil. It is aimed at oil- and fat- chemists in the food and oleochemical industries, chemical engineers in the processing industry, nutritionists and seed technologists."
Food Science and Technology Abstracts, Vol 37 (2) 2005

"This volume provides comprehensive coverage of rapeseed oil and its close relative, canola oil, from production (agronomic) aspects, through extraction to refining and processing.
This is a book for oils and fats chemists and technologists in the food and oleochemical industries, chemical engineeers in the processing industry, nutritionists and seed technologists."
Food Trade Review, September 2004

"This is a useful text in describing types, chemical composition, properties and uses of rapeseed oil for edible and industrial purposes.
Overall, the quality of publication and the presentation is excellent. [...] an ideal reference for people within the industry and a good source for further reading from the abundant level of references provided."
Food Australia, September 2005



The only volume devoted to rapeseed / canola oil



Coverage of all aspects, from production (agronomic), through extraction to refining and processing. Chemical composition, physico-chemical properties, food and non-food uses are considered in detail


A chapter is included on future prospects, including oils available by means of genetic manipulation