Rapid Infectious Diseases and Tropical Medicine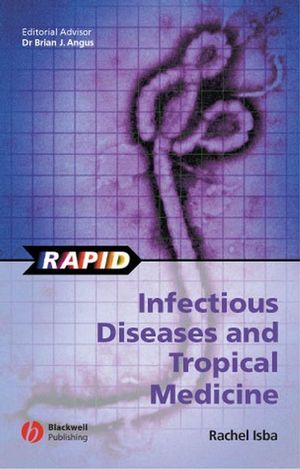 Rapid Infectious Diseases and Tropical Medicine
ISBN: 978-1-405-14066-9 February 2009 Wiley-Blackwell 184 Pages
Download Product Flyer
Download Product Flyer
Download Product Flyer is to download PDF in new tab. This is a dummy description. Download Product Flyer is to download PDF in new tab. This is a dummy description. Download Product Flyer is to download PDF in new tab. This is a dummy description. Download Product Flyer is to download PDF in new tab. This is a dummy description.
Description
Rapid Infectious Diseases
is the fourth book to appear in the
Rapid
series. Each book is designed for short revision covering key facts in a simple and memorable fashion, using well-thought out mnemonics to aid recall
This new text provides students in the run-up to exams with a comprehensive review of possible causes for symptoms and conditions as well as the key facts of around 100 diseases, following the Rapid mnemonic. There will also be an appendix giving details of immunisations as well as a list of Further Reading and useful web sites.

Clinical students working on Emergency Medicine and General Practice attachments will find this book extremely useful. It may also interest those planning electives abroad. Junior doctors and GPs will find this a handy resource for quick access to information on the symptoms and diseases they may encounter in the clinical setting.
Table of contents
Foreword.
List of Abbreviations.
Rapid Series Mnemonic.
Part 1: Signs & Symptoms.
Fever.
Sepsis.
Cardiovascular.
Upper Respiratory Tract / ENT.
Lower Respiratory Tract.
Gastrointestinal.
Hepatitis.
Urinary Tract infection.
Genitourinary.
Central Nervous System.
Eyes.
Skin and soft tissue infection.
Bone and joint infetcion.
Immunocompromised host.
Part 2: Aetiological Agents.
Viruses.
Bacteria.
Mycobacteria.
Fungi.
Protozoa.
Helminths.
Spirochetes.
Other organisms.
Higher organisms.
Ectoparasites.
Part 3: Diseases (A-Z).
Notifiable diseases.
Actinomycosis.
Adenovirus.
Alphaviruses.
Amoebiasis.
Anaerobes.
Anthrax.
Aspergillosis.
Atypical mycobacteria.
Babesiosis.
Bacillus cereus.
Bacterial vaginosis.
Bartonellosis.
Blastomycosis.
Botulism.
Brucellosis.
Campylobacter jejuni.
Candidiasis.
Capnocytophaga.
Chlamydiae.
Chickenpox, shingles.
Cholera.
Coccidiomycosis.
Common cold.
Coxsackie & Echoviruses.
Cryptococcosis.
Cryptosporidium, Cyclospora, Isospora, Microspora.
Dengue.
Dermatophytes.
Diphtheria.
Ectoparasites.
Ehrlichosis.
Filiariasis, Dracunculiasis, Trichinosis.
Gangrene.
Giardia.
Glandular fever.
Gonorrhoea.
Gram negative bacteria.
Haemolytic uraemic syndrome (E. coli O157).
Haemophilus spp.
Hantaviruses.
Helicobacter pylori.
Hepatitis A.
Hepatitis B & D.
Hepatitis C.
Hepatitis E.
Herpes viruses.
Histoplasmosis.
HIV 1 & 2.
HTLV1 & 2.
Influenza & Parainfluenza viruses.
Japanese B encephalitis.
Legionellosis.
Leishmaniasis.
Leprosy.
Leptospirosis.
Listeriosis.
Lyme disease.
Malaria.
Measles.
Meningococcus.
Molluscum contagiosum.
Mucormycosis.
Mumps.
Mycoplasma spp.
Nocardia.
Papillomavirus.
Parvovirus B19.
Pasteurella.
Plague.
Pneumocystis carinii.
Polio.
Polyoma viruses.
Prions.
Pseudomonas aeruginosa.
Q fever.
Rabies.
Rat bite fevers.
Respiratory syncitial virus.
Roundworms.
Rubella.
Salmonellosis.
Schistosomiasis.
Scrub typhus.
Shigellosis.
Smallpox.
Sporothrix.
Spotted fevers.
Staphylococcus spp.
Streptococcus spp.
Syphilis.
Tapeworms.
Tetanus.
Tick borne encephalitis.
Toxoplasmosis.
Treponema.
Trichomoniasis.
Trypanosomiasis.
Tuberculosis.
Tuleraemia.
Viral gastroenteritis.
Viral haemorrhagic fevers.
Visceral larva migrans.
Whooping cough.
Yellow fever.
Yersiniosis.
Appendix I: Immunisations and Malaria prophylaxis.
Appendix II: Antibiotics (therapy and prophylaxis) and needlestick prophylaxis.
Sources and Further Reading
Reviews
Published Reviews of the First Edition
"This book is a brief and quick source for key features to common infectious diseases. It can be used for a brief overview, nothing more. It is easy to read and has somewhat helpful tables to assist with categorizing pathogens."

MD, Creighton University Medical Center
Doody's Book Reviews
Features


A-Z organization of common infectious diseases from around the world

Concise entries following the Rapid series mnemonic to aid revision and recall

Divided into three parts covering Signs & Symptoms, Aetiological agents, and Infectious Diseases

Includes coverage of recommended immunisations and malaria prophylaxis