Rapid Mobile Enterprise Development for Symbian OS: An Introduction to OPL Application Design and Programming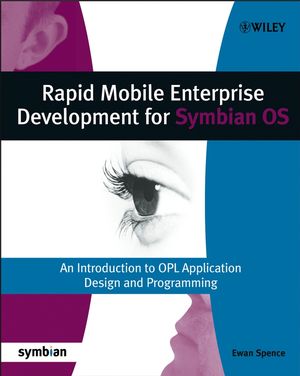 Rapid Mobile Enterprise Development for Symbian OS: An Introduction to OPL Application Design and Programming
ISBN: 978-0-470-01503-2 August 2005 346 Pages
Description
A guide to programming Symbian OS smartphones using OPL (The Open Programming Language): a simple to learn, open-source scripting language, ideal for fast-track development of enterprise applications.

This book provides a hands-on development environment for both the experienced and aspiring programmer, demonstrating the ease of use of Symbian OS technologies through the utilization of OPL.

OPL has a shallow learning curve which allows bespoke corporate tools to be developed in house by technical staff who aren't necessarily trained programmers. Rapid Mobile Enterprise Development For Symbian OS provides a clear guide on both how to program, and understanding the structure of the language through a keyword dictionary. Any bespoke OPL application can grow with a company, eventually providing access to more advanced C++ code through OPX extensions.

From the home programmer who wants to do more with their phone, to the enterprise developer, Rapid Mobile Enterprise Development For Symbian OS is the ideal starting point for simple, innovative application design using OPL.

Source code is available from www.symbian.co.uk/books
Foreword.
About This Book.
Author Biography.
Author Acknowledgments.
Symbian Press Acknowledgments.
PART 1.
Chapter 1. Programming Principles.
Chapter 2. Introducing the Tools of OPL.
Chapter 3. The Event Core.
Chapter 4. A Conversion Program.
Chapter 5. Using Graphics in an Othello Game.
Chapter 6. Database and a Notepad Program.
Chapter 7. Publishing Your OPL Application.
Chapter 8. Creating Applications and Installers.
Chapter 9. Where Now With OPL?
Appendix 1: Command Listing.
Appendix 2: Const.oph Listing.
Appendix 3: Developer Resources.
Appendix 4: Specifications of Symbian OS Phones.
Index.