Rapid Results!: How 100-Day Projects Build the Capacity for Large-Scale Change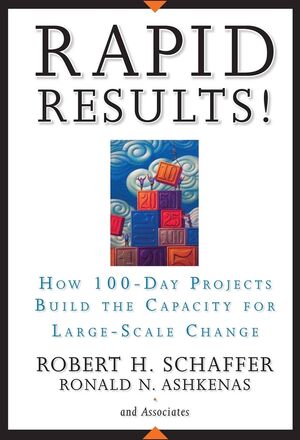 Rapid Results!: How 100-Day Projects Build the Capacity for Large-Scale Change
ISBN: 978-1-118-04677-7
Jan 2011, Jossey-Bass
272 pages
Description
Rapid Results! shows how to make large-scale changes succeed  by using 100-day results-producing projects to develop this vital implementation capability. Written by Robert H. Schaffer, Ronald N. Ashkenas, and their associates—leaders in the field of change management—Rapid Results! describes an approach that has been field-tested by real organizations of every size and description to improve performance and speed the pace of change.

Rapid results projects produce results quickly, introduce new work patterns, and enable participants to learn a variety of lessons about managing change. Step by step, the book describes how the use of rapid-cycle, or 100-day, projects   will multiply your organization's power to succeed at large-scale change. Schaffer and Ashkenas specifically outline the concept behind 100-day projects and show you how to
Set up the architecture to implement rapid results projects
Improve operational performance and also attain hard results in the soft areas of management
Build rapid results into major organizational change such as reorganization, acquisition integration, and international development
Use rapid results to drive leadership development and culture change
Preface.
Part One: Implementation Capability: Strengthening the Weakest Link.
1. A Thousand Cures: Which One Is Right?
2. The Potential Is There to Respond.
3. Start with Results, Not Preparations.
Part Two: Rapid Results: Expanding Implementation Capability.
4. Gain Rapid Results on Key Goals.
5. Mobilize Large Numbers of People in Change.
6. Build Your Own Unique Transformation Process.
7. Georgia-Pacific Takes It All the Way.
Part Three: Using Enhanced Implementation Capability to Execute Large-Scale Change.
8. Make Acquisitions and Mergers Succeed.
9. Unleash Implementation Capacity in Developing Countries.
10. Spark Strategic Momentum with Rapid Results.
11. Develop Leaders Through Results Achievement.
Part Four: Conclusion.
12. Challenge for Leaders: You Can Make It Happen!
Will You?
Notes.
Acknowledgments.
The Authors.
Index.
In the business world, it's all about rapid results. Schaffer and Ashkenas are here to make sure your company is maintaining the pace.
In the lightning-fast business landscape of the 21st century, managers are expected to produce solid results, quickly. According to the authors, the key to creating widespread, lasting progress begins with achieving rapid results at the micro level—as you engineer small victories, your company will build a solid foundation for future, more global success. With their 100-day projects, the authors lay the groundwork for organizations to experience marked success at the micro level, which will eventually lead to increased productivity and the ability to implement necessary reorganization on the larger management level. Some of key points include the necessity of mobilizing large groups of people to initiate change, the importance of creating a unique transformation plan for your company and the significance of applying these principles in developing countries. Both authors bring a record of proven success coaching CEOs and other upper-level management, and they provide copious examples of rapid results successes, including Georgia-Pacific, Citigroup, U.S. Borax and United Aluminum.
In an arena where quick success is paramount, learn the tools of
Rapid Results
or get left behind. (
Kirkus Reports Business Newsletter
, October 2005)
"In an arena where quick success is paramount, learn the tools of Rapid Results or get left behind." (Kirkus Reports)
"Ownership of the idea doesn't matter. What does matter is that the approach works." (CIO Insight Magazine Review by Paul B. Brown, October 2005)
Provides a methodology for leading and implementing the change process.

Illustrated with stories from Motorola, Citigroup, Johnson & Johnson, World Bank, Fidelity Investments, Siemens, Sprint, and many more.