Rapid Review of Small Exotic Animal Medicine and Husbandry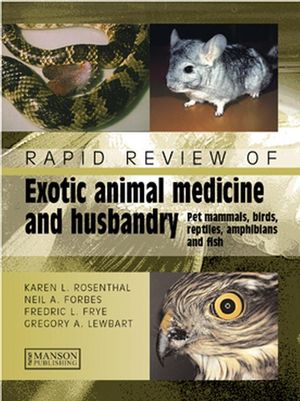 Rapid Review of Small Exotic Animal Medicine and Husbandry
ISBN: 978-1-840-76055-2
May 2008
256 pages
Product not available for purchase
Description
This wide-ranging review is divided into four sections - small mammals, birds, reptiles/amphibians, ornamental fish - and consists of an introduction to the essential aspects of medicine and husbandry of each group of animals, 400 colour-illustrated clinical cases, plus summary questions to highlight key points. The Rapid Review is designed to appeal to veterinary practitioners dealing with an ever-wider variety of animals, to veterinary instructors and students, technicians, nurses and assistants, and to other animal health professionals in practice and training.
?It is a well done book that has most of the pet exotics seen in practice under one cover. It provides good, basic information on common and some rare species.? (Exotic DVM, 2009)
authors are teachers and practitioners of world renown;
400 colour illustrated clinical cases cover a wide range of exotic species;

includes medicine and husbandry.