Rational Expectations in Macroeconomics: An Introduction to Theory and Evidence, 2nd Edition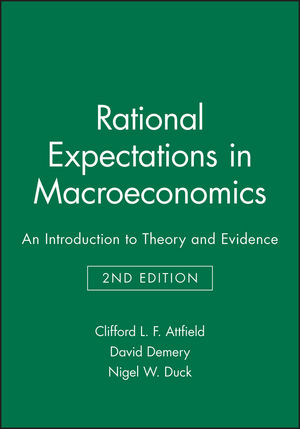 Rational Expectations in Macroeconomics: An Introduction to Theory and Evidence, 2nd Edition
ISBN: 978-0-631-17947-4 August 1991 Wiley-Blackwell 256 Pages
Description
Like the successful and widely-adopted first edition, this second edition is designed to explain the concept of rational expectations and its implications for macroeconomics.
Table of contents
Preface.
1. Expectations in Macroeconomics.
2. The Theory of Rational Expectations.
3. Testing the Rational Expectations Hypothesis.
4. Rational Expectations and a Flexible Price Macroeconomic Model.
5. Criticisms of the Flexible Price Rational Expectations Model.
6. Rational Expectations and Macroeconomics: Two Influential Empirical Studies.
7. Criticism and Reappraisal of the Lucas and Barro Models.
8. Real Business Cycle Theory.
9. Rational Expectations and the Real Income Hypothesis.
10. Summary and Conclusions.
Reviews
"... A highly successful attempt to make this difficult, important and controversial field accessible to students. Strongly recommended."
Times Higher Education Supplement
"... A lucid introduction to rational expectations theory, its policy prescriptions and empirical applications." Sheila Dow, The Economic Journal
Features
* This key book has been thoroughly updated to include the most recent scholarship.
* It is perhaps the only book filling the gap between standard macroeconomic texts and the literature in academic journals.