Rationalist Traces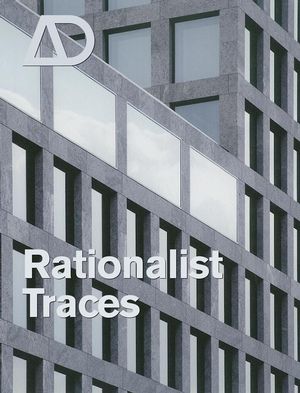 Rationalist Traces
ISBN: 978-0-470-02837-7
Oct 2007
152 pages
Description
Modern European architecture has been characterised by a strong undercurrent of rationalist thought. Rationalist Traces aims to examine this legacy by establishing a cross-section of contemporary European architecture, placed in selected national contexts by critics including Ákos Moravánszky and Josep Maria Montaner. Subsequent interviews discuss the theoretical contributions of Giorgio Grassi and OM Ungers, and a survey of Max Dudler and De Architekten Cie.'s work sets out a consistency at one remove from avant-garde spectacle or everyday expediency. In Germany Rationalism offers a considered representation of state institutions, while elsewhere outstanding work reveals different approaches to rationality in architecture often recalling canonical Modernism or the 'Rational Architecture' of the later postwar period. Whether evident in patterns of thinking, a particular formal repertoire, a prevailing consistency or exemplified in individual buildings, this relationship informs the mature work of Patrick Berger, Claus en Kaan Architecten, Carlos Ferrater, Cino Zucchi or Hans Kollhoff. The buildings and projects of a younger generation - Javier García Solera, GWJ Architekten AG, biq, Andrea Bassi or Beniamino Servino - present a Rationalism less conditioned by a concern to promote a unifying aesthetic. While often sharing a deliberate economy of means, or a sensual sobriety, they present a more oblique or distanced relationship with the defining work of the 20th century.
Introduction
On the Threshold of Rationalism
Andrew Peckham, Charles
Rattray and Torsten
Schmiedeknecht
The Dichotomies of Rationalism
in 20th-Century Italian
Architecture
Andrew Peckham
Selected Italian Projects
Andrew Peckham and
Lucia Tozzi
In Interview with Giorgio Grassi
Lucia Tozzi
Concrete Constructs: The Limits
of Rationalism in Swiss
Architecture
Ákos Moravánszky
Selected Swiss Projects
Torsten Schmiedeknecht
Schinkel's Order: Rationalist
Tendencies in German
Architecture
Werner Durth and Roland May
Selected German Projects
Werner Durth and Roland May
Rationalist Practice
Max Dudler
Dialogues with OMU
Andrew Peckham and Torsten
Schmiedeknecht
The Employment of Reason
Charles Rattray
Dutch Selected Projects
Charles Rattray
Rationalist Practice
De Architekten Cie.
French Rationalism: A Broken
Tradition
Joseph Abram
Selected French Projects
Joseph Abram
An Open and Flexible Tradition
Josep Maria Montaner
Selected Spanish Projects
Josep Maria Montaner
Interior Eye
Foster + Partners' Hearst Tower
and Gehry Partners' IAC Building
Jayne Merkel
Building Profile
Pedro and Inês Bridge, Coimbra,
Portugal
Jeremy Melvin  
Practice Profile
Gert Wingårdh
Timothy Tore Hebb
Spiller's Bits
Mythic Collaboration
Neil Spiller
Userscape
Brigitta Zics: Working on
Interactive Potential
Valentina Croci
Yeang's Eco-Files
Part 1: Some Basic Premises
for Green Design
Ken Yeang
McLean's Nuggets
Will McLean
Why Critical Modernism?
Charles Jencks
Home Body
Leon van Schaik
Site Lines
Hertzian Space: Material
Response to Spatial Presence
Mark Taylor