Re-Scripting Walt Whitman: An Introduction to His Life and Work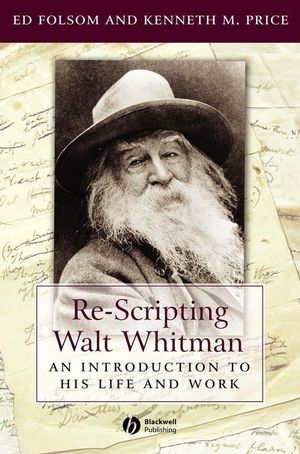 Re-Scripting Walt Whitman: An Introduction to His Life and Work
ISBN: 978-1-405-14468-1 April 2008 Wiley-Blackwell 176 Pages
Description
This introductory guide to Walt Whitman weaves together the writer's life with an examination of his works.


· An innovative introductory guide to Walt Whitman.


· Weaves together the writer's life with an examination of his works.


· Focuses especially on Whitman's evolving masterpiece Leaves of Grass.


· Examines the material conditions and products of Whitman's "scripted life", including his original manuscripts.


· Investigates Whitman's "life in print" – his belief that he could literally embody himself in his books.


· Linked to a large electronic archive of Whitman's work at www.whitmanarchive.org
Acknowledgments.
List of Abbreviations of Whitman's Works.
Introduction.
1 Growing up in the Age of Accelerating Print: Whitman as Printer, Journalist, Teacher, and Fiction Writer.
2 "Many Manuscript Doings and Undoings": The Road toward Leaves of Grass.
3 "I Was Chilled with the Cold Types and Cylinder and Wet Paper Between Us": The First and Second Editions of Leaves of Grass.
4 Intimate Script and the New American Bible: "Calamus" and the Making of the 1860 Leaves of Grass.
5 Blood-Stained Memoranda.
6 Reconstructing Leaves of Grass, Restructuring a Life.
7 Dying into Leaves.
Appendix: What Whitman Left Us.
References.
Index
"...Their
Re-Scripting Walt Whitman
is far more than an introductory guide to the poet's life and work. Folsom and Price have produced an incisive, gracefully written book that offers an important new approach to
Leaves of Grass ...
The result is a book valuable for whoever, novice or expert, undertakes to hold Walt Whitman in hand."
Walt Whitman Quarterly Review, Volume Twenty-Three, Numbers Three/Four, Winter/Spring 2006

"Drawing on their extensive experience with electronic editing, more specifically, their work with the Walt Whitman Archive, Ed Folsom and Ken Price reconstruct the details of the poet's life and thread through that life the complex but fascinating story of Whitman's evolving master-piece, Leaves of Grass. By emphasizing the manuscript origins of the poetry, Folsom and Price reveal that just about everything we thought we knew about this much-discussed writer and his work is subject to revision. At nearly every turn, Re-Scripting Walt Whitman seems to proclaim, 'Allons! the road is before us!' " Donald D. Kummings, Co-editor, Walt Whitman: An Encyclopedia

"Whitman is America's ever-fluid text. Thorough, concise, and engagingly written, Re-scripting Walt Whitman illuminates the life and works — the poet's sexuality, politics, and ceaseless growth — with an important new emphasis on manuscripts, revision, and the innovative online Whitman Archive that will startle general readers and literary scholars alike." John Bryant, Hofstra University

"A splendid primer to the complexities of Whitman's prose and verse. Folsom and Price expertly trace the evolution of Whitman's career and the gradual growth of Leaves of Grass. Scholars no less than novices will be inspired to read Whitman with fresh insight." Gary F. Scharnhorst, University of New Mexico

"Re-Scripting Walt Whitman accomplishes two significant tasks at once. It ties Whitman's poetry to his life in a clear, down-to-earth narrative of biographical detail and literary accomplishment. And it breaks new ground in its portrayal of Whitman as a working poet, one who knew his way around a print shop and based his radical innovations on an intimate knowledge of type, print, ink, and bookmaking. Drawing on their own experience in constructing a new electronic Whitman archive, Ed Folsom and Kenneth Price provide unique lessons in reading the actual materiality of Whitman's poems as the first step toward grasping their meanings." Alan Trachtenberg, Yale University
· An innovative introductory guide to Walt Whitman.
· Weaves together the writer's life with an examination of his works.

· Focuses especially on Whitman's evolving masterpiece Leaves of Grass.

· Examines the material conditions and products of Whitman's "scripted life", including his original manuscripts.

· Investigates Whitman's "life in print" – his belief that he could literally embody himself in his books.

· Linked to a large electronic archive of Whitman's work at www.whitmanarchive.org